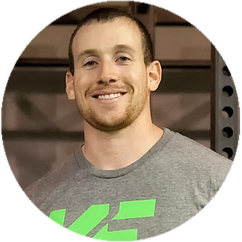 By Dan Kleckner, Special FBA Contributor
As I've mentioned in previous blog posts, 2020 was a tough year for all fitness businesses and the latest numbers show about 30% of gyms have permanently shut down. The good news is, I've personally seen a big bounce back in in-person training at the gyms I own. And our numbers have started to return to normal since the beginning of 2021. Today, I want to share three ways you can grow your business in 2021.
Before we jump into the strategy discussion, I think it's important to realize that we won't ever return to what was "normal" before the pandemic. A lot of things have changed, and we must let go of some old habits to move forward. The clients we are chasing have changed and it's imperative that we as owners adapt. For those willing to adjust, I believe the 2nd half of 2021 and beyond can be a huge year for fitness business growth. Here are some ways to make the most of your efforts.
Know your numbers
The first step in growth is knowing your numbers and reacting accordingly because if you meet specific target numbers, you will ensure monthly net growth. Numbers you should track consistently include client leads, leads to trial, trial conversions, and retention/attrition. Each month, you should look at which numbers are lagging and have systems in place to fix those numbers if needed. Please feel free to contact me if you'd like to know what my gyms' number goals are for each category.
Diversify your marketing
Social media used to be the marketing strategy to get new clients, but that's no longer the case. While it's still important to have a social media presence, we've had to add in other marketing avenues to achieve our client leads goals. Here are some other marketing tactics that have worked for my gyms:
Create Google Ads
Implement a consistent referral program
Host Member Appreciation Months where members can bring in friends
Build strong relationships with physical therapists and chiropractors in your area
Create a client reactivation plan to incentivize former clients to return
Create niche marketing campaigns – we've had success with "TPI Golf Fitness" "Fitness After 40" campaigns
Invest in current members by providing monthly gifts like a free t-shirt or free supplement
Focus on semi-private training
I am a huge proponent of semi-private training and believe it is the most beneficial fitness business model for growth. For the past several years, most new gym franchises that have opened focus on large group training models. Meanwhile, online training has grown exponentially during the pandemic, making both large group and online training models very crowded spaces. There are exceptions to the rule, but I highly discourage anyone to open a fitness business built on a large group/class or an online-only model. Reasons I believe the semi-private model is superior include:
The client attrition rate with semi-private training is typically 3% versus 10% with the large group model.
You can capitalize on the monthly average client spend in the semi-private model, which means you will not need as many total members to meet your profit margin goals.
The large group training model will be the last model to return to "normal" post-pandemic. It will be some time before you can have 30 people in a class again and some people may never feel comfortable returning to large group training. When my gyms re-opened in June 2020, we saw a huge surge in new clients who didn't feel safe in the large group model anymore and were willing to pay more for a smaller semi-private workout.
You can supplement in-person offerings with online options. We have found success using online platforms for things such as mobility and nutrition sessions.
With the right strategies and goals in place, I believe you can experience fitness business growth and success in 2021 because I'm already seeing positive results. If you have any questions or looking for examples of how I'm implementing these strategies, feel free to email me at dan@kuttingedgefitness.com.
---
Dan is the owner of Kutting Edge Fitness in Kirkland, Washington and Kinetic Fitness in Butte, Montana – two start-up training gyms. He has worked in the health and fitness field for 15 years and holds a B.S. in Applied Health Science from Montana Tech University, where he was also a collegiate athlete.
Dan is a Certified Exercise Physiologist through the American College of Sports Medicine and a level 2 Titleist Performance Institute Golf Fitness Professional. He has been mentored by some of the top golf fitness and fitness business professionals in the country including Thomas Plummer, Rick Mayo, Frank Nash and Jason Glass. He now mentors several start-up gym owners himself.  Dan is a well-respected speaker in the greater Northwest and is considered an expert on the business of start-up gyms, improving strength/power for golf and other rotational sports, and small group training.