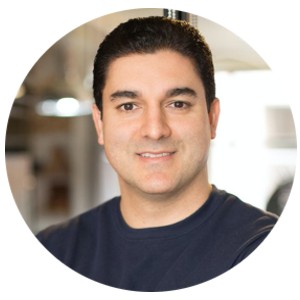 By PJ Taei, Special FBA Contributor
Online fitness studios are booming, with bricks-and-mortar studios going hybrid and new trainers starting out in the virtual space.
The virtual fitness market is expected to grow by over 30% up to 2026 so there is plenty of space for your fitness business to monetize your video content.
We're going to run you through 7 ways you can monetize your fitness content and boost your revenue, including:
Plus more options that'll secure your business long into the future.
Warm-up over, let's get going.
Table of Contents
Strategy #1: Set up an Online Training and Fitness Studio
Strategy #2: Create and Sell Downloadable Training Resources
Strategy #3: Sell Workout Products and Branded Merchandise
Strategy #4: Launch a Fitness OTT App
Strategy #5: Promote Your Online Fitness Studio Using Email Marketing
Strategy #6: Promote Your Online Fitness Studio Using Social Media Marketing
Strategy #7: Organize Online Fitness Workshops
Strategy #1: Set up an Online Training and Fitness Studio
Creating an online fitness studio is a savvy business move, whether you've already got a solid offline presence or want to get your fitness business off the ground.
At Uscreen, we've found that our fitness studio owners average 343 members and earn over $7,500 per month - there is definitely success to be found with this business model.
The most popular way to monetize your fitness videos is to create a membership website to host your videos and charge a subscription - it's a payment method that gym-goers are familiar with and gives your business recurring revenue, too.
You can also opt to sell packages and bundles like a bootcamp program or pay-per-view content.
Here's an example of what your online fitness studio could look like.
Example: Naturally Sassy
Naturally Sassy is an online fitness studio offering body sculpting and fitness through the medium of ballet training.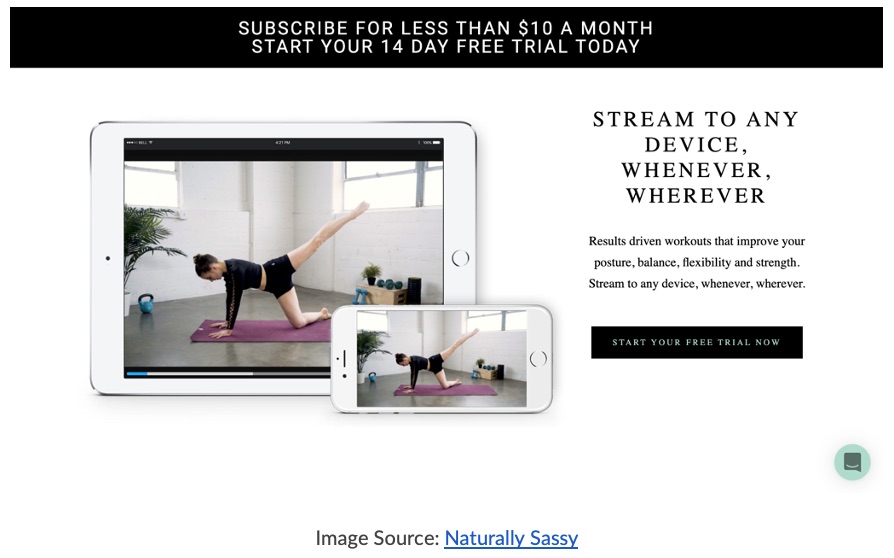 The studio offers three membership options, allowing their members to pay monthly, bi-annually, or annually and offers discounts for longer sign-ups.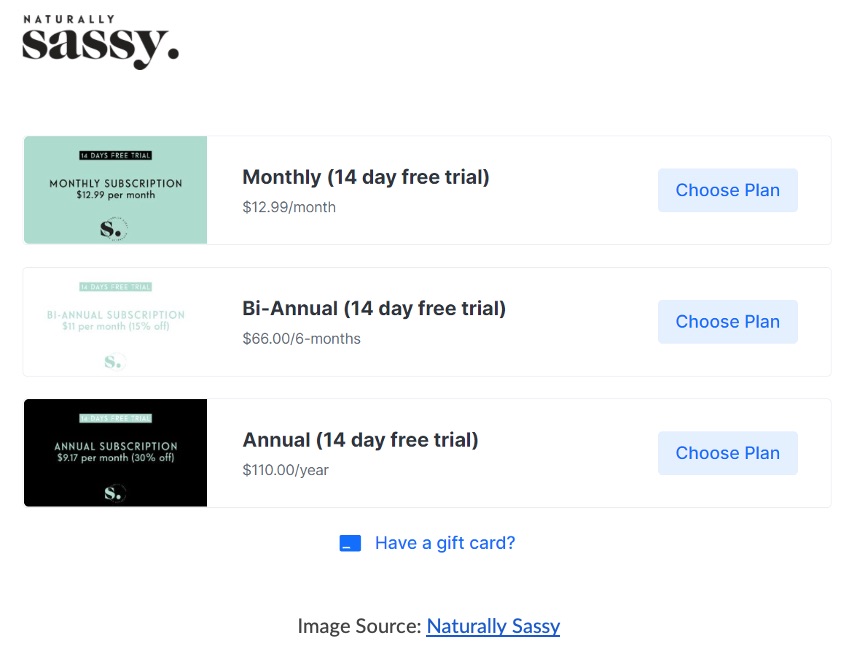 Once signed up, users can access the complete range of fitness videos, including Bounce and Burn, skills videos, and Cardio Blast.
The next monetization strategy is coming up.
Strategy #2: Create and Sell Downloadable Training Resources
With a membership-based video website created to give you a long-term income stream, you can look for ways to create additional value through innovative content.
On top of your videos, your members will likely want things like:
Nutrition plans
Recipe cards
Training schedules
Goal tracker templates
All of which you can create and charge extra money for.
Having additional content will also give you options to add membership tiers to your website; you can let higher-paying members access your premium downloads for free while asking for a small fee from others.
Let's see how a pair of successful creators are doing it.
Example: Boho Beautiful
The yoga and wellness duo at Boho Beautiful host their fitness videos for all their members and have extra content for download.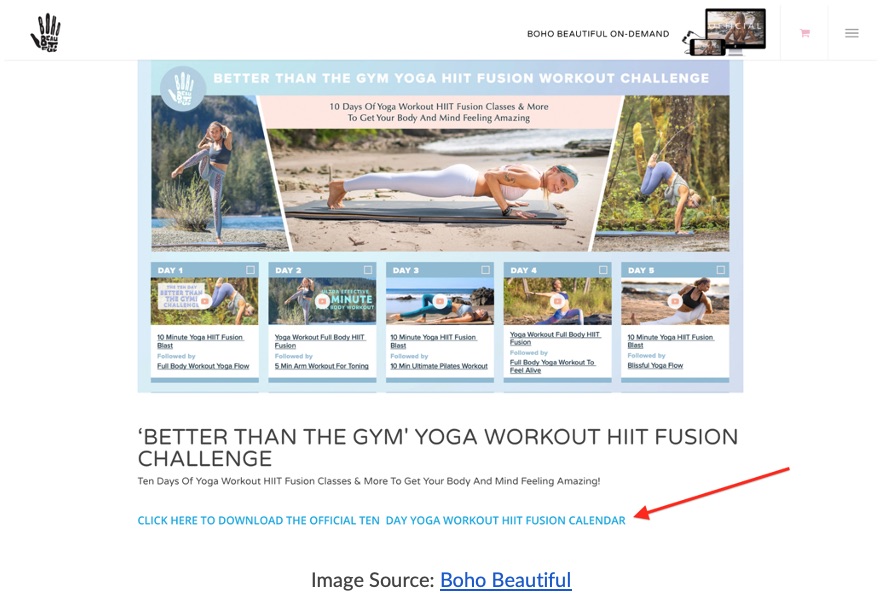 As you can see in the screenshot above, they have a downloadable guide to their yoga and HIIT fusion course in the form of a calendar.
You can sell ebooks, podcast access, or any other type of content you like as an add-on to your fitness videos.
Moving on to the next strategy.
Strategy #3: Sell Workout Products and Branded Merchandise
With a loyal audience who love your work and the brand you've created, you can also sell them the additional equipment to get the most out of your fitness sessions.
There's a whole bunch of options for what you can sell, such as:
Branded yoga mats
Branded fitness bands
Slogan t-shirts
Gym bags
The options are endless to create an offline community and expand your revenue streams at the same time.
If you're not ready to add your brand to items, you can even add affiliate links to products on a platform like Amazon, which will pay you a small commission for every sale you make.
We've got an example of how it could look.
Example: Bulldog Yoga
Bulldog Yoga welcomes yogis of all levels to their fitness classes from quick 10-minute classes to yoga-infused HIIT.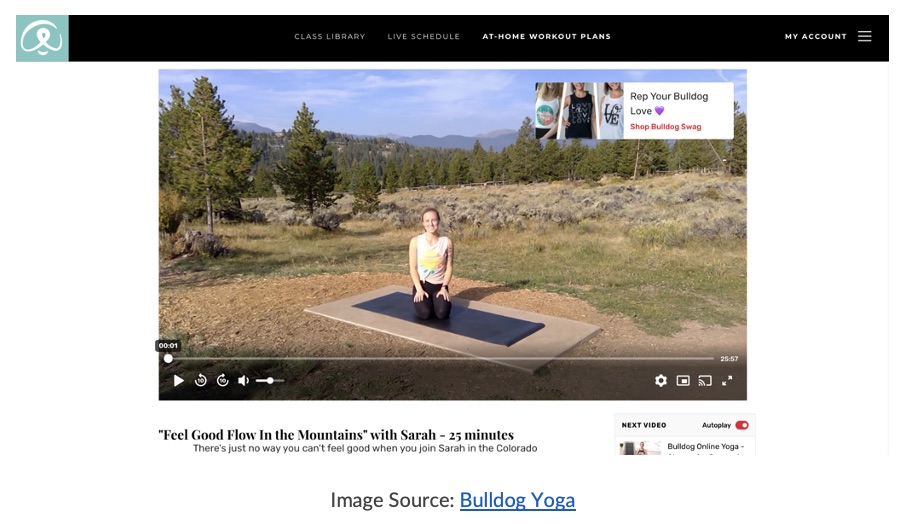 Using a platform like Uscreen to monetize your fitness content allows you to integrate your merchandise right into your videos.
Check out the top right corner of the video above - Bulldog has overlaid their swag store onto their video right where the instructor can be seen wearing one of the branded t-shirts.
The fourth strategy is just a scroll away.
Strategy #4: Launch a Fitness OTT App
Having an app for Android, Apple, and even Apple Watch is no longer the preserve of big brands with tens of thousands to spend.
It's now a reasonably simple and cost-effective process to create your own, branded app for your members to access whenever and wherever they want.
Adding an Apple Watch app to your package can help users track their fitness goals accurately and add an extra layer of value, too.
As well as mobile apps, it's even possible to create a TV app that can be accessed on Roku, Apple TV, and Fire TV, so your fitness videos can be on your members' living room screen and easily accessible.
Offering these extra features allows you to charge a higher price for a premium product - consider adding an extra membership tier to your packages that offers exclusive access to apps.
Check out how this studio is working this option.
Example: iChuze Fitness
iChuze is all about holistic fitness, combining working on the heart, body, and mind.
The fitness studio offers lots of different app access, including mobile apps on Android…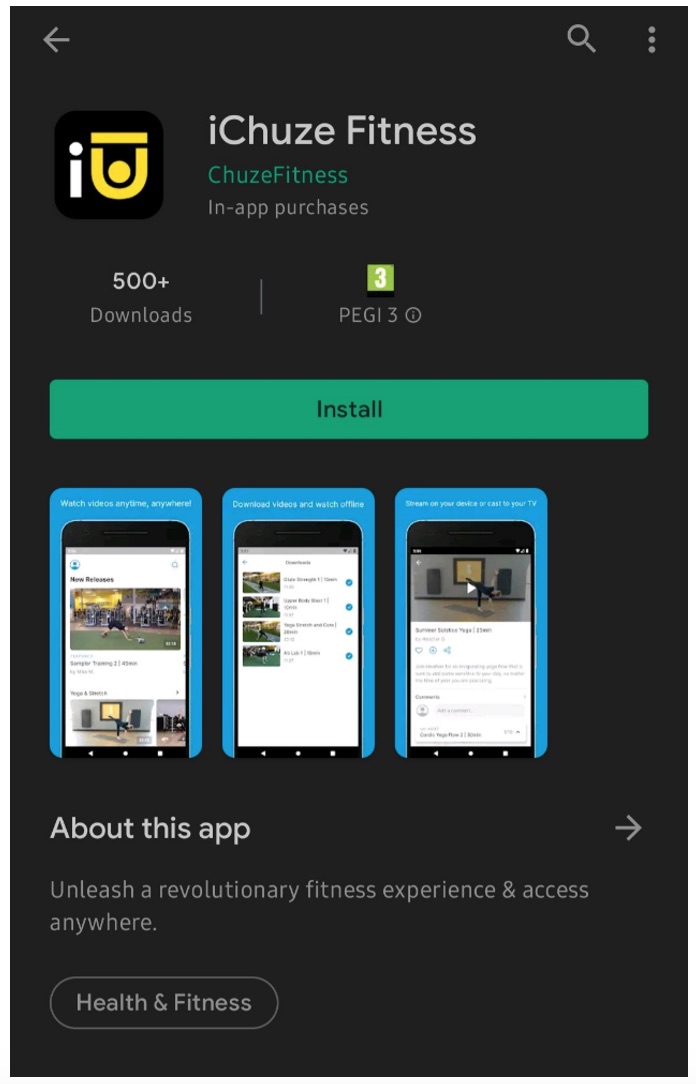 …and iPhone: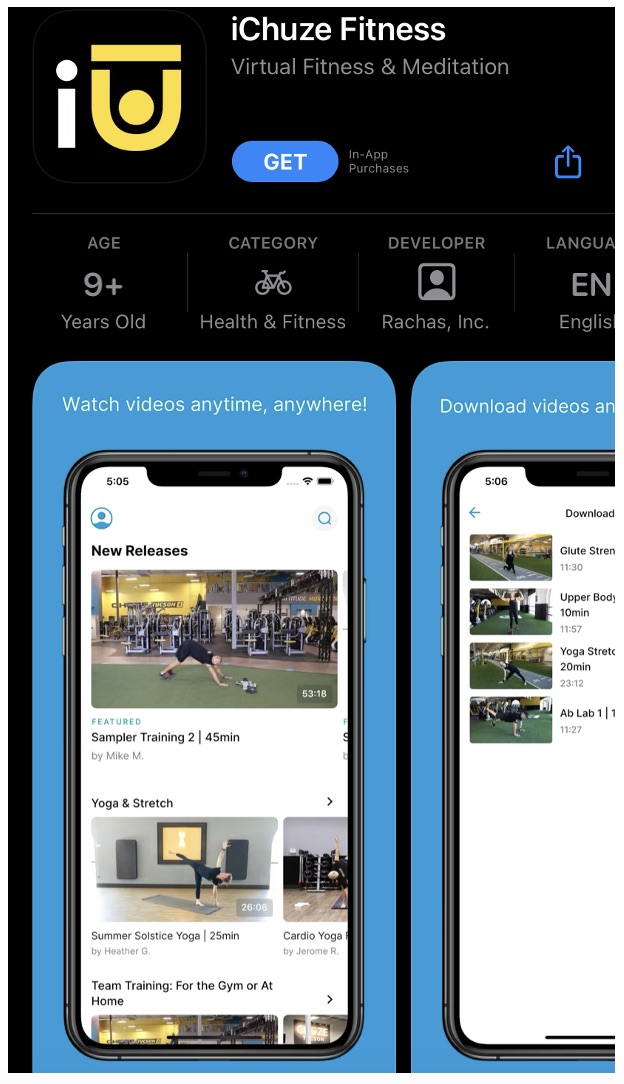 There is even an iChuze TV app and an Apple Watch fitness tracker that's recently been launched.
Put simply, the more value you add for your members, the higher you can price your membership.
Another way to monetize your fitness content is next.
Strategy #5: Promote Your Online Fitness Studio Using Email Marketing
In general, email marketing has a return on investment (ROI) of $36 for every dollar spent.
Seems worth it, right?
To monetize your email list, first, you need to build one, which can start by collecting emails of the visitors to your fitness video site.
It can be as simple as offering a free 30-minute session or a small ebook in exchange for an email address - people who are genuinely interested in what you have to offer will jump at the chance.
You can then nurture these potential customers by showing them the value they can get by signing up to your fitness site or buying other products you offer.
Here's how it's done.
Example: Yoga with Adriene
Adriene Mishler is the host of Yoga with Adriene on YouTube which has over 10 million YouTube subscribers as well as co-founder of Find What Feels Good online yoga studio.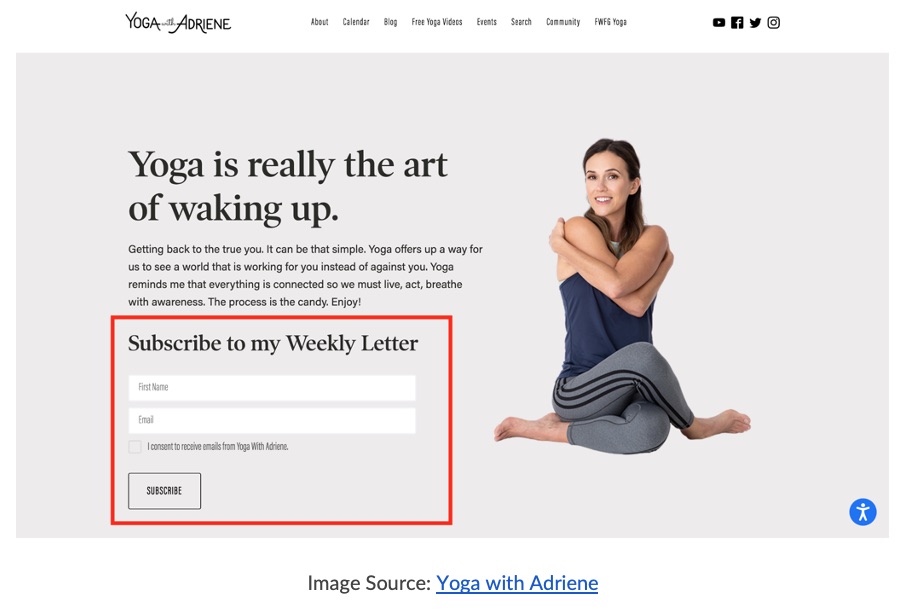 Adriene harnesses the power of email marketing by actively encouraging people who visit her website to sign up to her newsletter.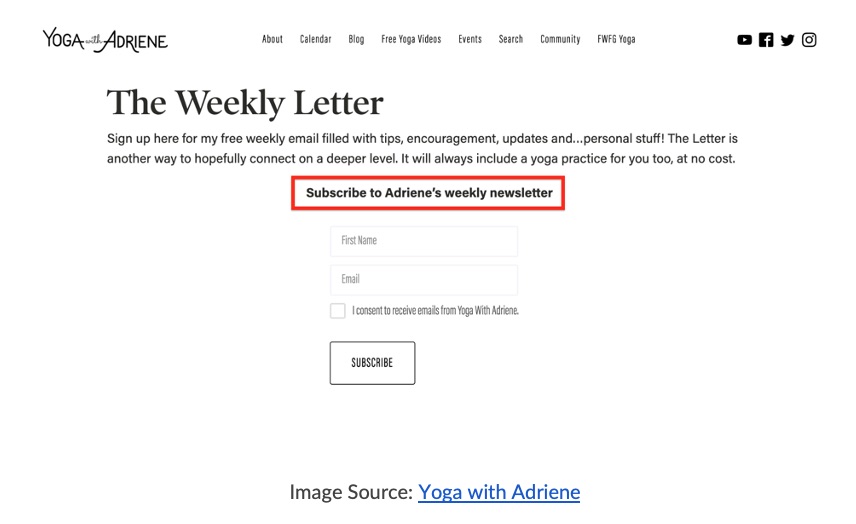 As you can see from the landing page for her email sign-up, she offers value through yoga tips and encouragement to demonstrate how useful it'd be to join her yoga classes.
Let's head over to the next option.
Strategy #6: Promote Your Online Fitness Studio Using Social Media Marketing
Another way you can reach out to potential members of your online fitness studio is to take advantage of your social media accounts.
First, you need to understand where to find your audience across platforms like:
Facebook
Instagram
TikTok
Pinterest
Then create engaging content that'll show them why joining your fitness studio will be a great choice for them.
Example: Superhuman App
Superhuman offers mediations for all situations, including walking, running, and during your pilates classes.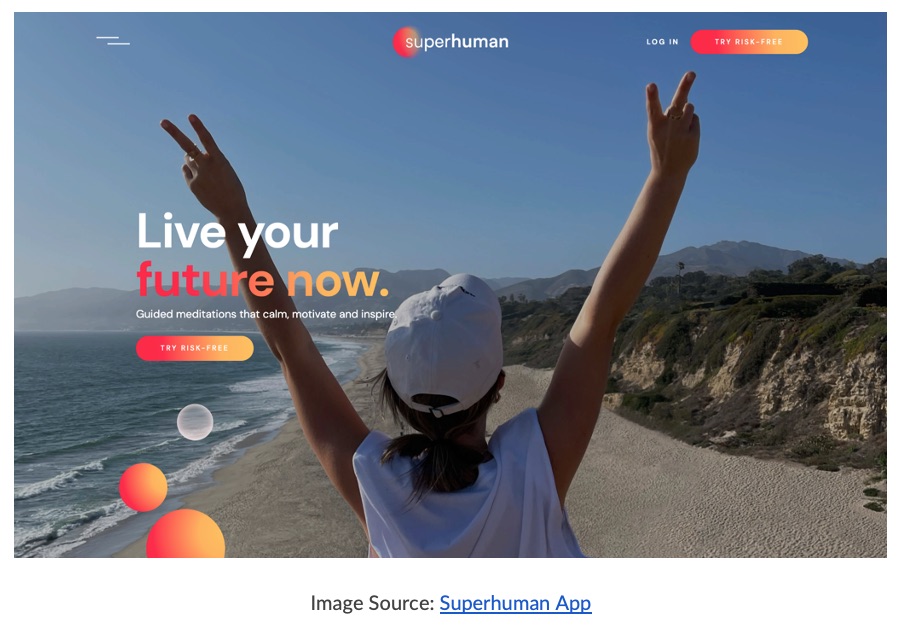 It posts content that's on-brand on its Instagram account to explain the benefits of the app, and by asking questions that are relevant to the content it makes, it drives engagement, too.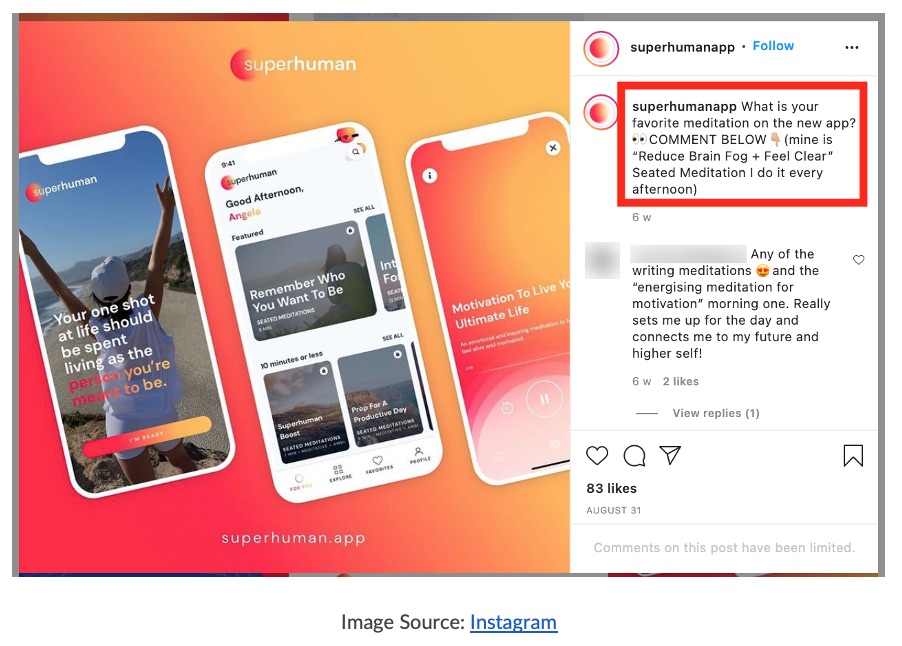 Social media is a fantastic way to connect with a wider audience who you can then introduce to your online fitness site.
Into the home straight with our final monetization strategy.
Strategy #7: Organize Online Fitness Workshops
Along with your regular content, you can create workshops, bootcamps, and exclusive training sessions to increase the appeal of your online studio.
Time-limited content can serve a couple of different purposes:
You can sell short-term access to your content for additional income.
You can use it as a way to show your target audience what you offer to encourage them to sign up in the long-term.
You can choose to run live video sessions and interact with your audience, offer a bundle of fresh content, or time limit access to a training course, for example.
One more example to show you how it could look.
Example: Practice with Clara
Clara is a Canada-based yoga instructor offering classes focusing on strength, mood, and revitalization among others.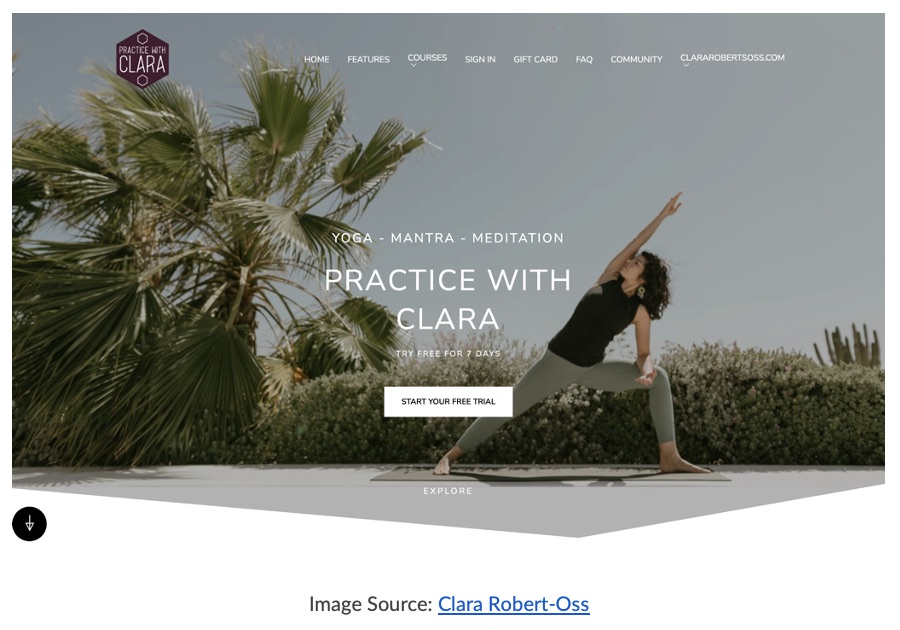 She also runs regular events on her website, including special sessions and teacher training courses.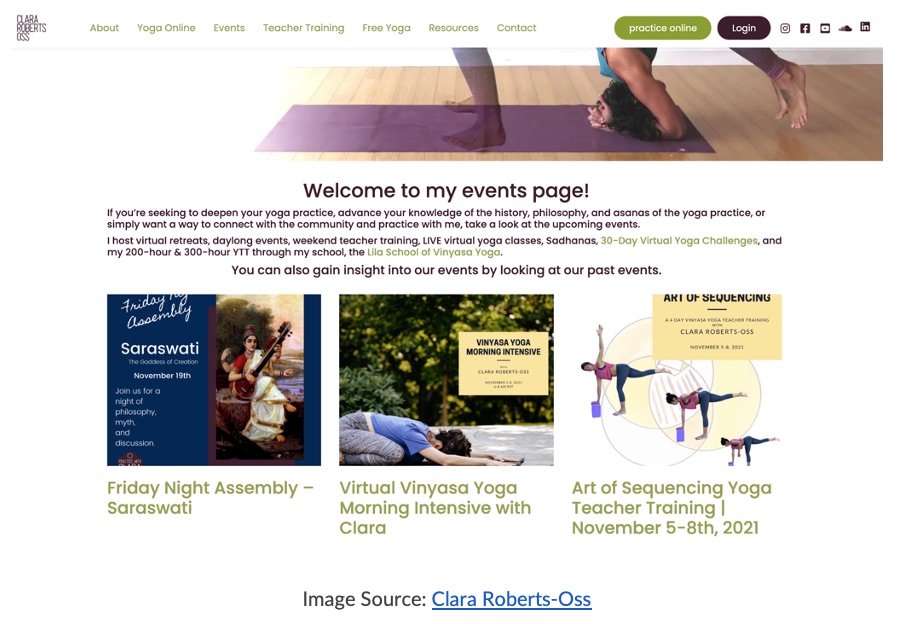 Additional content that goes above and beyond what you offer in your membership package is a useful way to add revenue streams while still doing what you know best - teaching online fitness sessions.
That's our top 7 strategies for monetizing your online fitness videos, let's head to the cool down.
Final Thoughts
Online fitness classes are a big business and you have a range of options to make money from the content you create.
Along with offering membership to your video site, you can offer extra resources and exclusive swag, add an app to your package, and innovate with how you generate interest in your fitness studio through email and social media marketing.
Diversifying your revenue streams will give your fitness business a solid foundation and space to develop your content to present even more value to your members.
Want to get your online fitness studio setup? Get going with our 2-week free trial gives you time to get your website and courses built and ready to monetize.
---
PJ is the founder and president of Uscreen, an all-in-one video monetization platform that empowers video entrepreneurs and creators to monetize their content and build thriving businesses around their videos.