News Release
AFS Releases First-ever Research Study 'Buying Habits of Fitness Studios'
(Free to All AFS Associate Members)

(OAKLAND, CA, March 6, 2017) – The Association of Fitness Studios (AFS) announced today the release of 'Buying Habits of Fitness Studios,' the first-ever research study of its kind, chronicling the who/what/when of purchasing habits of studios of all disciplines.

The 'Buying Habits of Fitness Studios' measures studio spending habits in the key areas of fitness equipment, software, and insurance. In addition, the study examines who makes the buying decision, when such decisions are made, and what the marketing influences are on such decisions.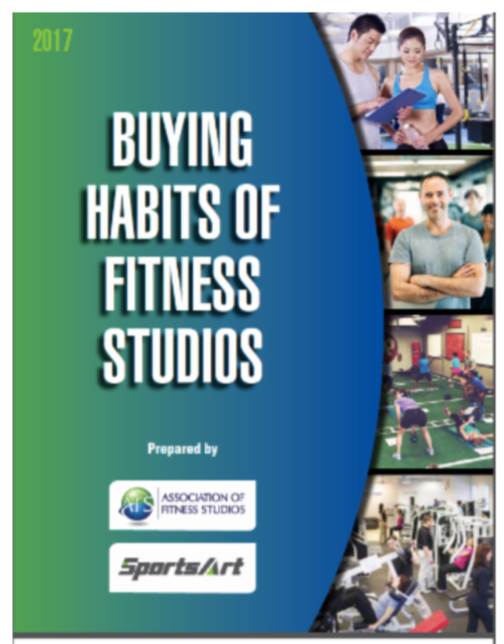 The product is free of charge to all AFS associate members (vendors/suppliers) and will be available March 15, 2017.  The product is not available for sale.  
"There's over 100,000 fitness studios and until now, no definitive data on who's making the buying decision and what influences that decision," said Josh Leve, AFS founder and CEO. "The findings will help our supplier friends better understand this dynamic and thereby enhance their interaction with customers."
The AFS 'Buying Habits of Fitness Studios,' project is sponsored by SportsArt, as part of their overall contribution to advancing studio education and research.
The findings identify key data to answer fundamental questions, including:
To what degree does the studio owner make the buying decision?
How much are studios spending in key business categories?
Is there seasonality to studio purchasing?
Which marketing strategies work best when seeking studio business?
What are the best opportunities for increased studio business?
About AFS 

The Association of Fitness Studios (AFS) is the only membership community dedicated solely to the business of fitness studios.  AFS provides studio owners and developers a wide array of business-specific products, services, and benefits that enable them to more effectively manage and grow their businesses, building on the passion, compassion and courage they've already shown. www.afsfitness.com