​NEWS RELEASE
AFS Succeeds with SUCCEED! 
1st Major Fitness Convention & Expo Wows Attendees
(OAKLAND, CA, April 23, 2019)  – Featuring attendees from 28 U.S. states, and three Canadian provinces, SUCCEED! – AFS' inaugural Convention & Expo and the first major fitness business event dedicated solely to current and aspiring studio and gym operators – was a resounding success.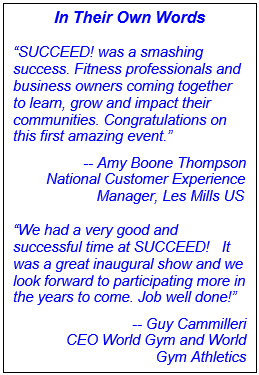 Held April 12-14, 2019, in Irvine, California, the three-day event inspired, educated, entertained, and fostered peer networking while applying business growth strategies for over 300 people in attendance. The Hotel Irvine campus was an ideal setting amidst perfect southern California weather.
"We're very pleased with our first SUCCEED! event," said Josh Leve, AFS founder and CEO.  "The accolades and kind words from so many people have made SUCCEED! truly a labor of love. We're so excited that we've contracted to return to the same location May 1-3, 2020."
While SUCCEED!'s over 50 educational sessions, and pre- and post-Convention workshops were hugely impactful, the highest praise was saved for the incredible keynote presentations of Todd Durkin and Augie and Lynne Nieto.
Durkin inspired and motivated the crowd as he wove his personal story with the lessons learned in being one of the fitness industry's most successful studio operators.  Lynne Nieto, speaking from the heart with her ALS-stricken husband Augie by her side, told the incredible story of how Augie's fight for life has turned into the most prolific organization seeking a cure for the dreaded disease.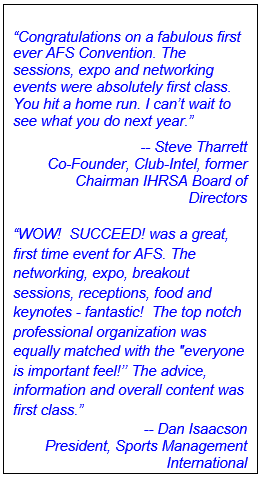 The dynamic SUCCEED! Expo highlighted products and services central to operating a profitable fitness business, while SUCCEED!'s fantastic social events provided fun, food, and drink to all.
Host Hotel Irvine delivered impeccable service and fantastic food at daily events – giving attendees a great value for their participation.
But don't take our word for it.  Let the folks who were there tell it in their own words in the sidebar to this release.
If you're in the fitness business and you want to engage, network, and learn at an event entirely tailored just for you  - then SUCCEED! is the place to be.
So mark your calendars – May 1-3 2020.  See you there!
More information on SUCCEED! is available at https://www.succeedwithafs.com.
Check it out today!
About SUCCEED!
SUCCEED! is an event like none other in the fitness industry with education solely dedicated to fitness businesses of all sizes, disciplines and tenure for entrepreneurs looking to take the next step in their career. The event features pre-cons, educational tracks, an Expo highlighting new technologies and equipment, with networking and social events throughout.
 
About AFS 
The Association of Fitness Studios (AFS) is the only membership community dedicated solely to the business of fitness studios.  AFS provides studio owners and developers a wide array of business-specific products, services, and benefits that enable them to more effectively manage and grow their businesses, building on the passion, compassion and courage they've already shown – including SUCCEED! - the first-ever major Business Convention & Expo for current and aspiring studio/gym owners.