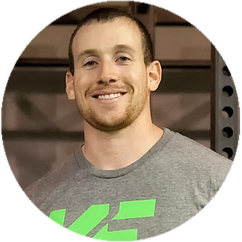 By Dan Kleckner, Special AFS Contributor
Generating leads is a vital part of growing your business.  I've shared some of the techniques I use to generate leads in previous blog posts. However, generating leads alone will not bring you financial success – you must have a solid system in place to convert those leads into regular paying clients. 
The goal for most training gyms should be to generate 30-40 leads each month and then convert 20 of those leads into paid trials each month.  From those 20 paid trials, you should convert 12 (60%) to regular memberships.  I've found that 12-month or month-to-month memberships are best and those are the only options we offer.  Additionally, all members should be charged monthly through an electronic funds transfer. If you have any questions on how the membership structure works at my gyms, shoot me a message and I'll be more than happy to share ours with you.
Here's the process we use to convert 60% of our paid trials into regular paying members.
First, I believe the sales process really starts at the initial consultation. We make sure our initial consultations are thorough, valuable and engaging to prospective clients. Each initial consult is 60 minutes long and includes the following content:
Goal setting and "get to know you" questions
Previous injury history
Pricing breakdown
Scheduling process
Cancellation policy
Semi-private training vs. group classes
Measurements  
Complete a physical assessment which includes single leg balance, overhead squat, lat length, single leg glute bridge and rope slams for 30 seconds
Review the physical assessment
 Schedule the first session
Following the initial consult, we add the client to our trial checklist. Some of the items on that list include:
Send a written thank you note 
Create a client note card
Add to a constant contact trial list the day they start their trial
Email follow-up with a welcome guide
Email a meal plan (if applicable)
Send an "end of trial" calendar invite to our team so they know when a trial is ending
Put client into Skipio (text messaging service)
During the 30-day paid trial, we have automated emails that go to the client each week. We also call or text them at least once a week to check-in on them. Additionally, we send a survey halfway through the trial to see how we are doing. If they do not convert into a regular member, we send another survey at the end to find out what we could have done better. Below is an example of our communication schedule during a normal 30-day trial.
Handwritten thank you card: Immediately
Email thank you with eBook: Immediately
Schedule Follow Up: Day 8 – in-person desk date 
1st call or text: Day 10
1st email: Day 10
2nd call or text: Day 20
2nd email: Day 20
3rd call or text: Day 30/31
3rd email: Day 30/31
As part of the 2nd email and call, we usually include a special offer to entice the client to commit to a regular membership before their trial period is up. We usually offer a free My Zone fitness belt or a free 13th month on our 12-month contracts.
While the steps above are important, you need to have the right person in place to do the initial consult as I believe that is where the sale really begins. For the first couple years of business, I did all our consults and sales. Recently, I noticed our trial conversion numbers started to drop a little.  After some self-reflection, I realized I wasn't as invested in the consults as I used to be because I was focused on other aspects of the business. I decided to assign the initial consult and trial membership process to one of our lead coaches and, since making that switch, our numbers have been better than ever.
It's important to realize when you may no longer be the best person for a certain task, and you need to delegate it.  You also need to know your employees and their personalities when deciding who should take this role within your business.  From my experience, most trainers are not good at selling, so you shouldn't automatically give the sales and consult process to your best trainer. Whoever fills this role must be personable and comfortable asking for money to complete the sale.
---
Dan is the owner of Kutting Edge Fitness in Kirkland, Washington and Kinetic Fitness in Butte, Montana – two start-up training gyms. He has worked in the health and fitness field for 15 years and holds a B.S. in Applied Health Science from Montana Tech University, where he was also a collegiate athlete.
Dan is a Certified Exercise Physiologist through the American College of Sports Medicine and a level 2 Titleist Performance Institute Golf Fitness Professional. He has been mentored by some of the top golf fitness and fitness business professionals in the country including Thomas Plummer, Rick Mayo, Frank Nash and Jason Glass. He now mentors several start-up gym owners himself.  Dan is a well-respected speaker in the greater Northwest and is considered an expert on the business of start-up gyms, improving strength/power for golf and other rotational sports, and small group training.