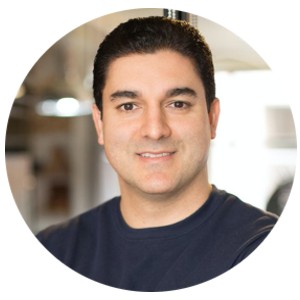 By PJ Taei, Special FBA Contributor
Are you ready to take your fitness business online?
You've got your online booking system, you've integrated your payment solution on your website, your email campaigns are on point and drawing in new members. All that's missing is putting your fitness classes online.  It may be the next logical step in your business growth, but knowing where to start can be a challenge.
That's why we've put together a rundown of the five best streaming platforms to get you moving in the right direction.
Warm-up done; let's get into the action.
5 Best Live Streaming Platforms for Online Fitness Classes
Platform #1: Uscreen
Platform #2: OnZoom
Platform #3: Wowza
Platform #4: Brightcove
Platform #5: DaCast
Platform #1: Uscreen
The first platform that you can stream your studio's fitness classes on is Uscreen.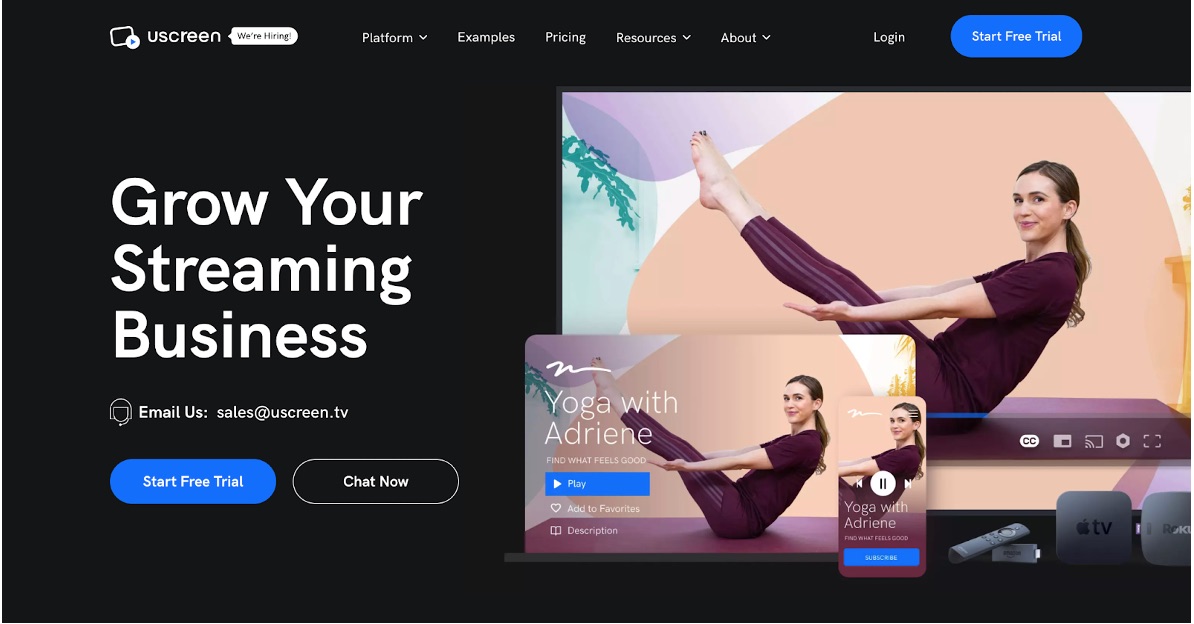 Uscreen is a tool to let you monetize your video content, giving you a website, landing pages, and even letting you create apps for mobiles and smart TVs.
Your members can get exclusive access to your live-streamed fitness classes and you can get detailed analytics data and use your existing tools like your email marketing software to keep in touch.
Let's look at the details of what the platform offers you.
Uscreen Live Streaming Features
To host your live-stream fitness sessions on Uscreen, you get:
A fully customizable website with our drag-and-drop page builder to personalize the site to host your streams
The option to create apps for smart TVs, mobiles, and Apple Watch
Discounts, coupons, free trials, and other promotions for your customers
Recurring monthly or annual memberships and one-off payments for your live streams
A range of integrations including Zapier to set up automations for your business
Live countdowns, reminder notifications, and auto-recording of your sessions
Auto record to VOD (video-on-demand) so you can monetize your catalog of live videos.
With lots more, too.
That's everything you get with Uscreen's live streaming; let's look at the next option.
Platform #2: OnZoom
Another great live streaming platform for virtual fitness classes is OnZoom from Zoom.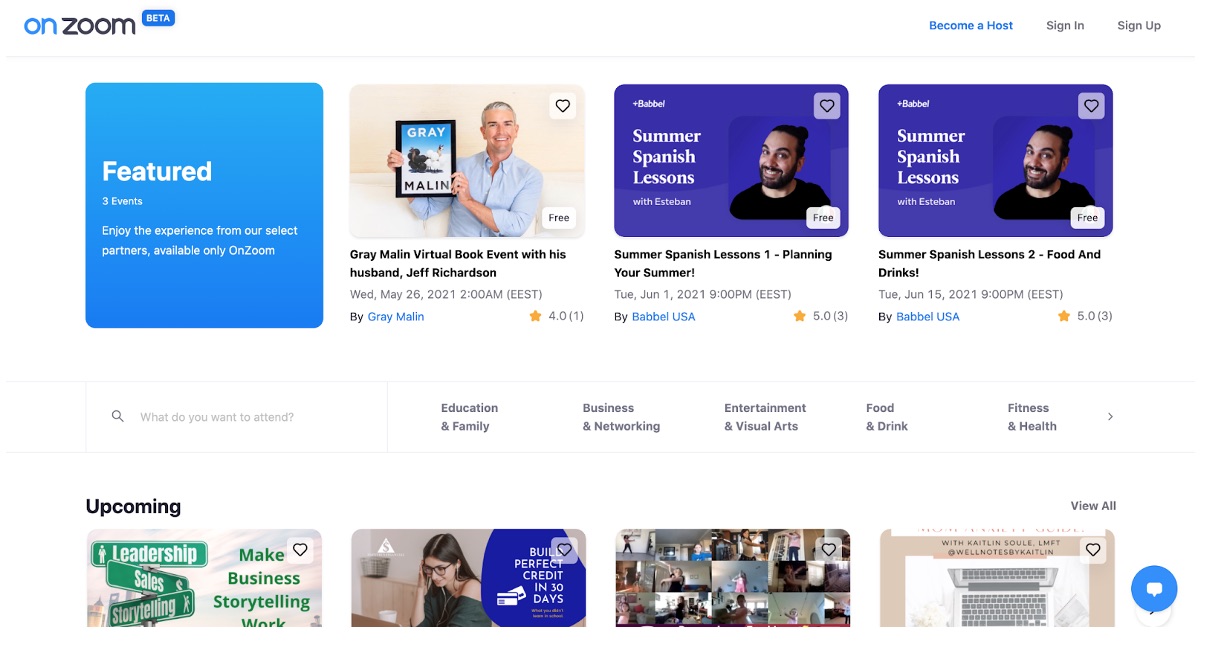 Image Source: OnZoom
With their recently launched OnZoom platform, you can live-stream your fitness classes from the same account you run your business meetings.
As long as you have a current paid-for Zoom account, are in the US, and have a US billing address, you can request to host your content through OnZoom.
OnZoom Live Streaming Features
With OnZoom, you can:
Host classes with up to 1,000 attendees
Monetize classes through ticket sales, taking payment with PayPal or credit card
Tier your pricing for different membership levels
Hold interactive sessions that look and feel like Zoom meetings
Record your fitness class onto the cloud for later use
Integrate your CRM, e.g. HubSpot, and email marketing tools
Get analytics through integrations with Worlytics, Teamplify, and more
Moving on to the third option for you.
Platform #3: Wowza
Wowza is a streaming platform with a range of technology to get your live content onto your customers' screens.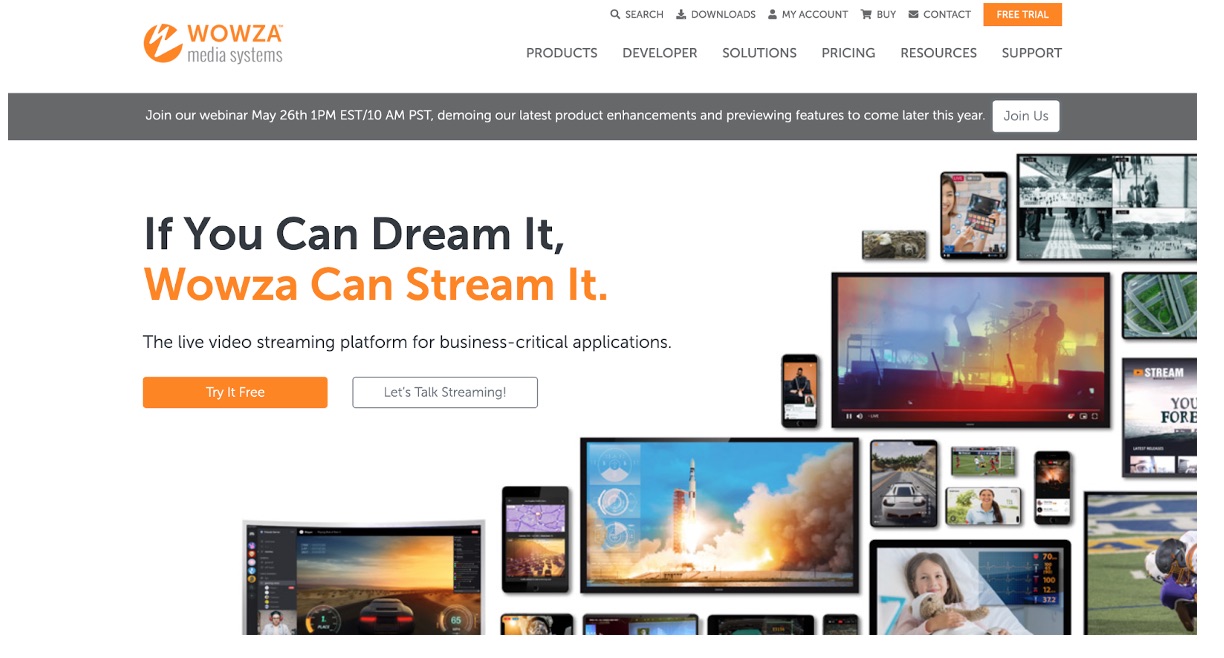 Image Source: Wowza
The platform uses cloud technology to deliver live streams to your target audience.
It's a tool that facilitates businesses getting their content online, such as esports, gambling, and auctions, to name a few.
Wowza Live Streaming Features
Here's everything that Wowza can do in terms of live streaming:
Adaptive bitrate streaming to suit the download speeds of users
Streaming quality up to 4K
Content can be delivered to a range of devices
Stable software with low latency on your streams
Options to secure content including geo-blocking
Wowza is a great tool for building a custom streaming platform; it offers lots of customization options through their streaming engine and developer kit.
From Wowza, we move onto the next streaming platform we have for you.
Platform #4: Brightcove
Brightcove has been a staple of the video streaming industry for more than a decade.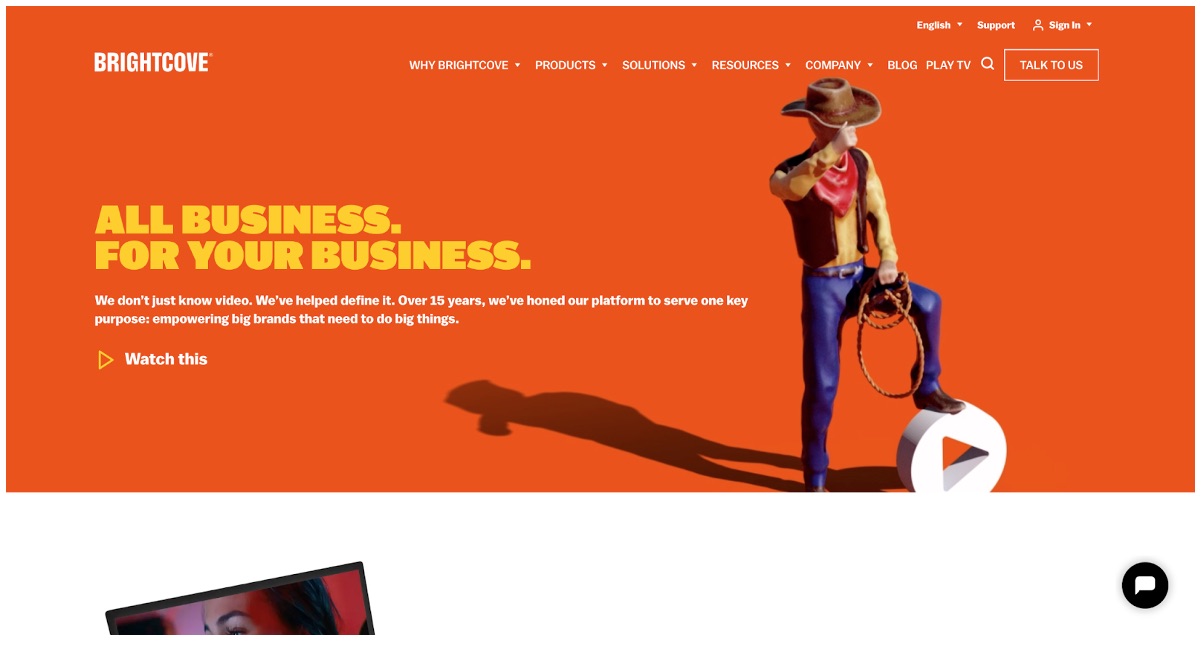 Image Source: Brightcove
The company has experience across lots of industries and can support the streaming of your online fitness classes with a range of features.
Monetization with Brightcove is through advertising on videos, rather than having them pay a membership, although you can embed the stream onto a membership site that you create.
Brightcove Live Streaming Features
When you live-stream your classes with Brightcove, you can:
Broadcast through their cloud technology, delivering high-quality content
Use their server-side ad-insertion technology to serve adverts to viewers
Add your live stream to your social media channels and your website
Record your live streams to create video-on-demand content
Integrate a range of tools for analytics and marketing
What does our final platform have to offer?
Platform #5: DaCast
Last on our list of streaming platforms to live-stream fitness classes is DaCast.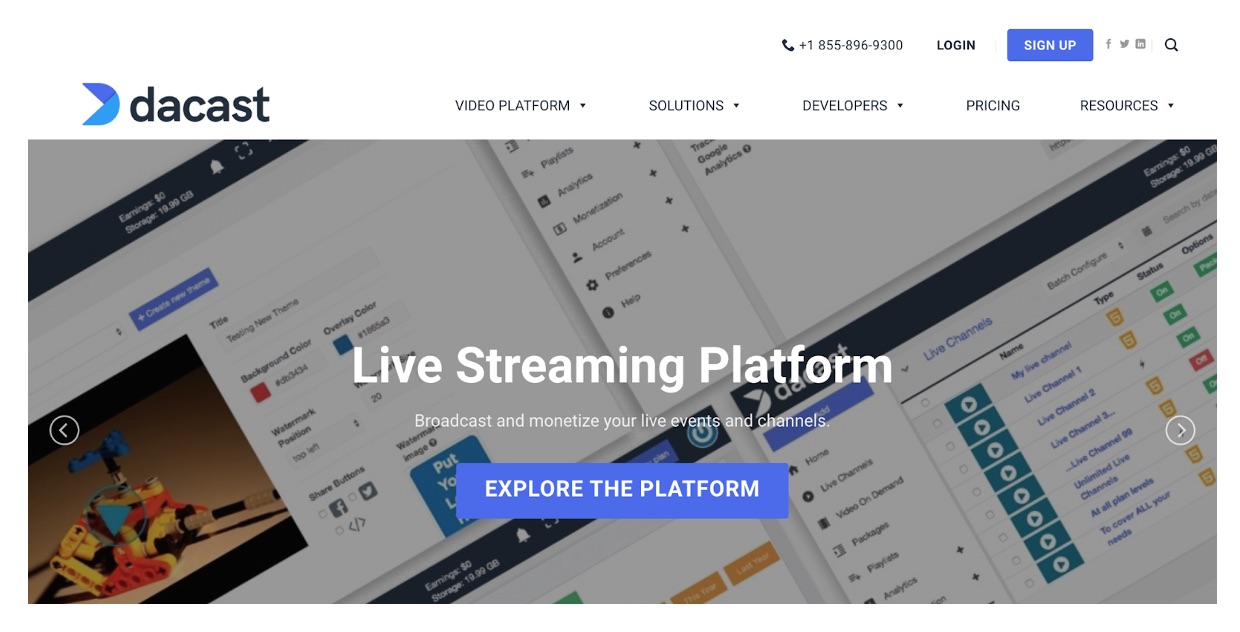 Image Source: DaCast
Founded in 2010, DaCast hosts live stream and video-on-demand content.
It's used across media, marketing, education, and sports to deliver content to a range of devices and offers different monetization offers.
DaCast Live Streaming Features
If you opt for DaCast, you'll be able to:
Broadcast fitness classes to desktops, smartphones, and TVs
Create apps for connected TV apps like Roku and Apple TV
Embed the video player onto your own website
Monetize content with subscriptions, pay-per-view, or advertising
Access analytics to understand trends in your audience
Contact support 24/7 with problems
That's the top five platforms you can use to host and monetize your fitness classes online, so let's move to the cool down.
Now Over to You
Feeling inspired to get your fitness classes streaming live?
The platforms we've presented to you have a range of features and can all help you to monetize your content without learning to code or build websites, so you can focus on your classes.
Whether you're looking to:
Create phone and TV apps
Build a membership site
Host ads or charge subscriptions
Understand your audience better
There's a streaming platform that will work with your needs.
Now you know where to start, it's time to put the legwork in to get your classes streaming!
---
PJ is the founder and president of Uscreen, an all-in-one video monetization and live streaming platform that helps fitness experts and businesses build their own Netflix-style streaming service. Today, Uscreen is home to more than 10,000 businesses globally, including fitness brands, such as Chuze Fitness, GYMBOX, NBC Sports, Vida fitness, and 1,500 others.