​NEWS RELEASE
BurnAlong Becomes AFS Sponsor 
'Immediate help during the health crisis - stream classes online to stay connected with current members and gain new members'
(MINNEAPOLIS, MN, PIKESVILLE, MD, March 24, 2020) – The Association of Fitness Studios (AFS) today proudly announced and welcomed the addition of BurnAlong to its sponsorship ranks.
As the growing health crisis is keeping people at home and limiting their social contact with others, BurnAlong is partnering with 100s and 100s of local gyms and studios to help them keep their classes going online - by streaming live or on-demand - and critically helping their members stay healthy and engaged with their favorite instructors from home.
"We are in a time of crisis that's affecting all businesses. It's hitting fitness and wellness professionals especially hard as people cannot go in person," Daniel Freedman, Co-CEO of BurnAlong said. "By partnering with BurnAlong, gyms, studios, and instructors are able to stay connected with their members and help keep gym memberships active by live streaming classes and assigning 'homework' using a custom-built digital platform."
From the BurnAlong Partner App, available on Web, iOS and Android devices, instructors and trainers can live-stream and record classes for members to watch on-demand. It takes just minutes to sign up and go live on BurnAlong. There is no cost to gyms and studios to sign up and stream classes; they get paid and gain new members.
"Having the app was crucial. I had all this content; I was able to give my clients homework for while I couldn't be training. So, the retention that I was able to get because I had that content ready and on BurnAlong was invaluable." Joanie, Owner of JoanieFit said.
BurnAlong includes a social group class feature unique in the market: Members can invite up to 3 friends, family members, or co-workers to take group classes together in real time where they can see and hear each other. This brings the group experience online that is so effective in in-person group classes.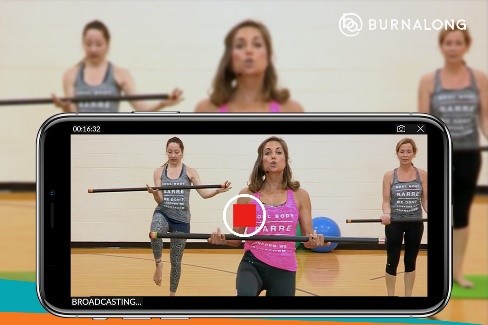 "The modern consumer expects streaming group classes from anywhere in the world. We believe clubs need to identify that fact and provide their members with access to their classes -- before they access somebody else's. BurnAlong is the only solution on the market that empowers health clubs to deliver the necessary solution," said Brett Maloley, CEO of Argo Collective. 
At a time when people are feeling isolated from their friends, family, co-workers, and favorite instructors, BurnAlong bridges that gap by helping them stay healthy and connected.
To learn more about how your gym or studio can get started using BurnAlong, go to www.burnalong.com/partners or contact partners@burnalong.com. 
To learn more about BurnAlong, visit www.burnalong.com. 
Companies can learn how to bring BurnAlong to their employees at www.burnalong.com/corporate-wellness.
Individuals can try BurnAlong for free for 30 days by visiting www.burnalong.com/individuals.
About AFS  
The Association of Fitness Studios (AFS) is the only membership community dedicated solely to the business of fitness studios.  AFS provides studio owners and developers a wide array of business-specific products, services, and benefits that enable them to more effectively manage and grow their businesses, building on the passion, compassion and courage they've already shown – including SUCCEED! - the first-ever major Business Convention & Expo for current  and aspiring studio/gym owners.
About BurnAlong  
BurnAlong is the leading online video wellbeing and social motivation platform. BurnAlong works with cities, insurers, universities, and companies of all sizes globally, and partners with 100s of local gyms, studios, and wellness professionals. By posting classes on BurnAlong, beyond supporting and engaging existing members, gyms and studios get introduced to 100,000s of people who aren't yet members – and get paid for those views too.