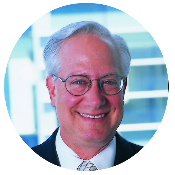 By Chuck Leve, Executive Vice President, Business Development
I'm a proud Chicagoan, born and raised. 
I love the city, the lake, the people (well, most of them), the restaurants, the cultural opportunities, the whole thing.  And I'm not shy about touting Chicago's attributes in general conversation.
However, the one thing I can't ever remember saying about Chicago is how awesome the city is for maintaining an active lifestyle.  I mean, winter alone should throw cold water – or rock-hard ice with a heavy dose of wind – on that idea.
And then, I was checking out Club Industry's great website and came across this headline, Chicago Sits Atop WalletHub's List of Best Cities for an Active Lifestyle and I thought, can't be MY Chicago.  My curiosity peaked, I took a look and lo' and behold, there it was, edging out Portland, OR, a few points ahead of San Francisco and San Diego, sitting on top of the heap: CHICAGO! 
I had to dig deeper.  Chicago on top of the heap makes sense, for deep dish pizza, for museums, for woe-is-me sports teams, for please-don't-make-me-change-planes-at-O'Hare, and for awful weather, but for fitness?  Sure, the city has an outstanding core of health club operators, but not enough to offset the lure of more exotic cities.
So, I dug into WalletHub and had no problem finding 2018's Best & Worst Cities for an Active Lifestyle.
Wallet Hub compared the 100 biggest U.S. cities based on 34 key indicators of an active lifestyle. Their data set ranged from average monthly fitness-club fees to bike score to air quality to share of physically inactive adults, with a weighted methodology, complete with insights from their panel of experts, with all sorts of impressive credentials after their names.
Here are the Top 15 cities and if yours is not on it – sorry, it's just not Chicago worthy: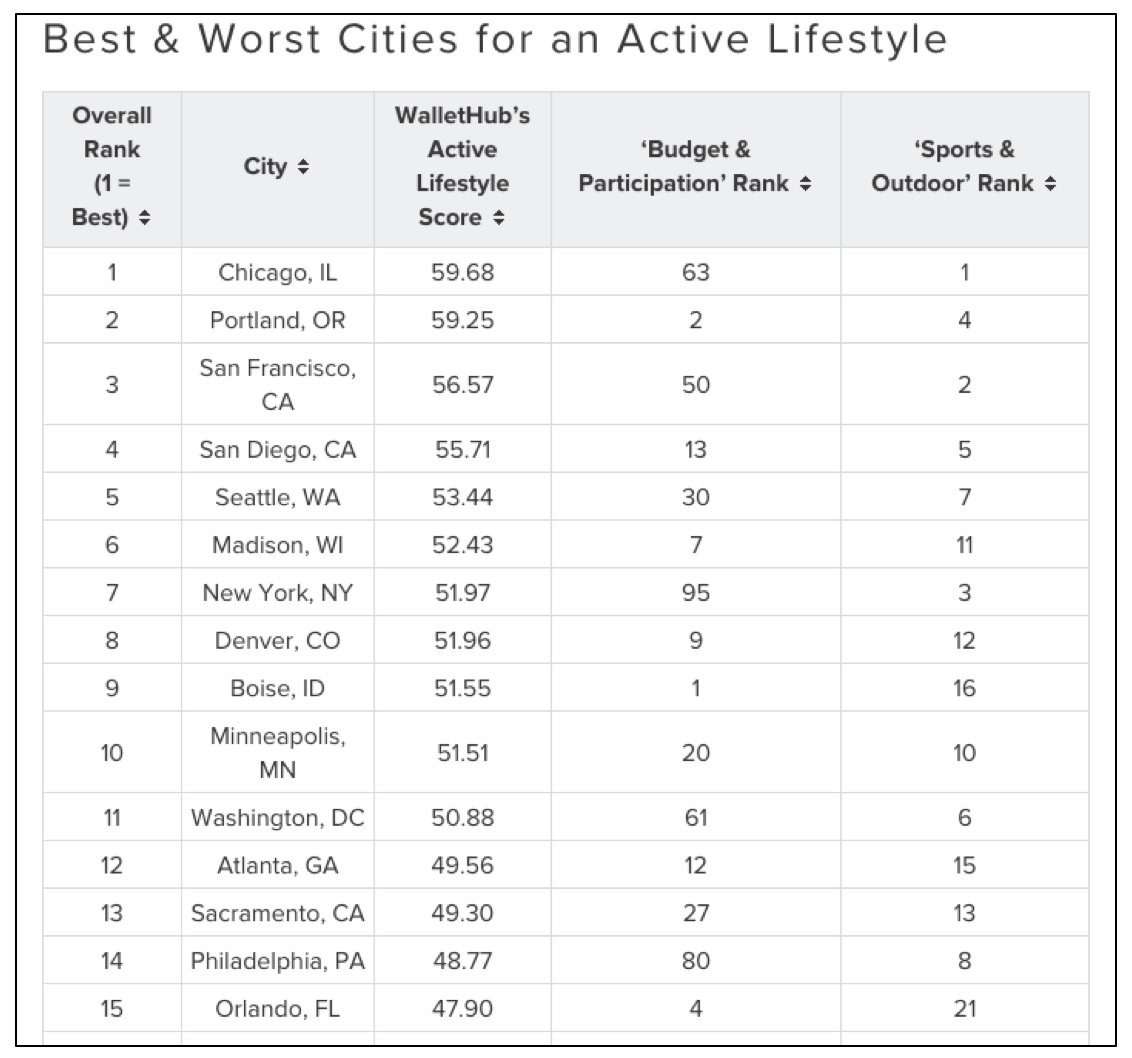 Turns out Chicago scored exceptionally well in "most per capita" areas such as access to swimming pools, availability of tennis courts, abundance of basketball hoops, and quantity of playgrounds, scoring a number one, or tied for number one ranking in each of these categories.
And the experts weren't shy in their comments.
"Studies have shown that if you build parks, soccer fields, and baseball fields if you build playgrounds, basketball courts, and tennis courts – people who live in the neighborhood will use them," said Sharon Brown, professor of exercise science at Transylvania University.
"There are many programs that have been successful," said Gavin Colquitt, associate professor of Health & Physical Education at Georgina Southern University. "The commonality among successful programming is community engagement in all parts of programming, including design, implementation, and evaluation.
"The greatest challenge is to help people develop a motivational strategy that will support their continued participation in an exercise program," said Christopher A. Hopper, professor of kinesiology at Humboldt State University.  "Enthusiastic and motivational instructors can have a positive impact."
That's nothing new for the fitness industry, especially the studio segment, led almost entirely by top-level trainers.  What is new is the Chicago connection.
Then here comes WalletHub using two key dimensions (Budget & Participation and Sports & Outdoors) and 34 relevant metrics, a graded scale, and adjustments for population size to calculate its Active Lifestyle Score for the 100 largest cities in America.  And there it is #1: Chicago.
If you're wondering about the loser cities, here's the bottom 15, a couple of which are somewhat surprising: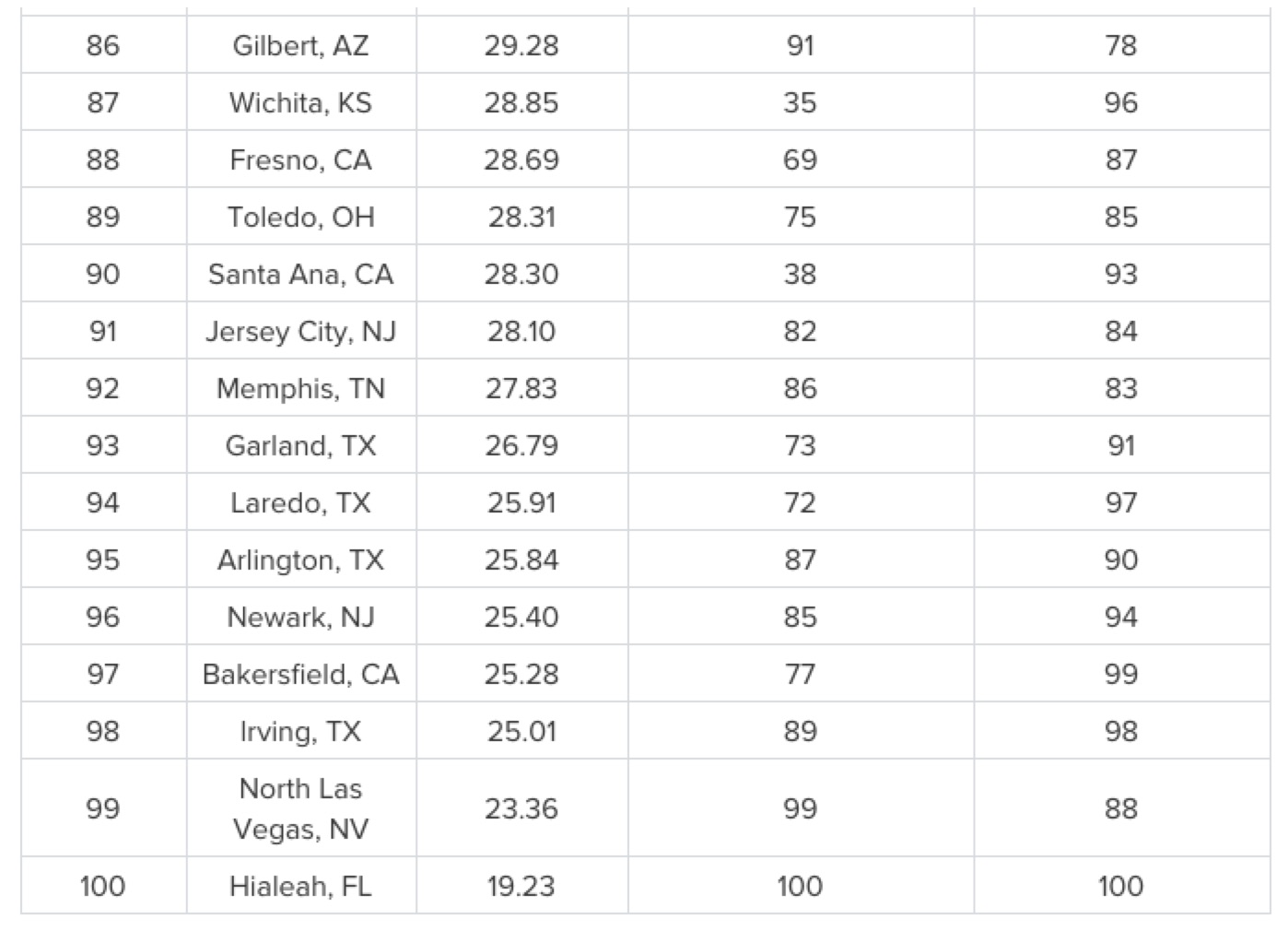 Wow!  Whoever thinks of Chicago as the mecca of active lifestyle?!  Almost makes me regret my relocation to San Diego.
---
Chuck Leve is a 40-year veteran of the fitness industry and proven successful developer of fitness industry associations. Currently he serves as the Executive Vice President of Business Development for the Association of Fitness Studios (AFS). He's been involved in the creation and development of some of the most successful trade associations in the history of the fitness industry.