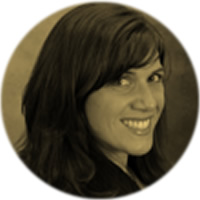 By Christa Plaza, Principal and Architect at Essenza Architecture. 
So you are thinking about opening your own studio? Where should you begin? There are a number of aspects to consider when opening your own studio starting with a great business and marketing plan. There are several key elements to focus on that will contribute to your studio's success. What types of clients are you trying to attract, where will you be located, what types of programs will you offer, and how will the design support this vision?
Clientele: Understanding who your members are and what activities you will offer will help define the amenities in your studio and what special features each room must have. Will you have the right clientele to support a cycling studio, yoga studio, boot camp, or small group training? What will be the focus of your club? Once you understand the clientele, the design can create the experience that matches their expectations. Studio designs are strongly dependent on your members and the overall vision you are trying to achieve. Do you want your club to be hip and modern, have a natural earthy feel, a clean line euro style, or more traditional?
It is also important to collect demographic information on your clients to understand what they are looking for and what price point they are willing to pay. Be aware of over pricing your target market as it will be difficult to achieve your membership goals.
With a better understanding of your clientele you can consider if single sex restrooms will be enough or if you will require small locker rooms or changing areas. Will your members be traveling close to home or will they be on their way to work, thus needing a place to shower after their workout? Some of this may also depend on the size of your space as well as the occupant load. One way to address these questions would be a survey that is sent out to the community within a 5 to 10 mile radius of the club.  Questions should be written to come up with focused answers that will help you develop your program.
A studios success greatly depends on the demographics and Location. It is important to study location options to determine where your best market will be. Some items to consider in the site selection are: will you have enough parking spaces, is there good presence for your marketing signage, is the site easily accessible and does it circulate well for your peak hours, and are there enough restrooms to support your occupant load. Something that came up on one of our recent site selections for a new 5,000 s.f. studio was that the building was in a great location and had ample parking, but it was not handicapped accessible. To make the proper modifications to bring it up to building code standards, it was going to cost a lot of money, which was not part of the client's budget.
Notice what businesses will be adjacent and nearby to your studio. If you are going to be playing loud music and you do not have good sound separation walls you will not want to be near a business that operates with low noise levels. For example, a dentist is not going to appreciate loud music with a heavy beat when they are trying to create a relaxing environment for their patients. If you have no choice and are located next to a quiet business it is imperative that you provide sound isolation and separation around your space to keep the disturbance to a minimum.
Define the programs offered in your studio. Will this be a multifunctional studio or will you have a focused practice. Will you be a "Soul Cycle", "Yoga Works", or will you offer a wider range of programs. Developing the program will help in your site selection as well as defining your clientele and pricing for your new studio space. Below we are showing an example in a mind-body specific club. Each studio is dedicated to a specific use, but they are all associated with mind body activities including hanging yoga, wall yoga, and Pilates.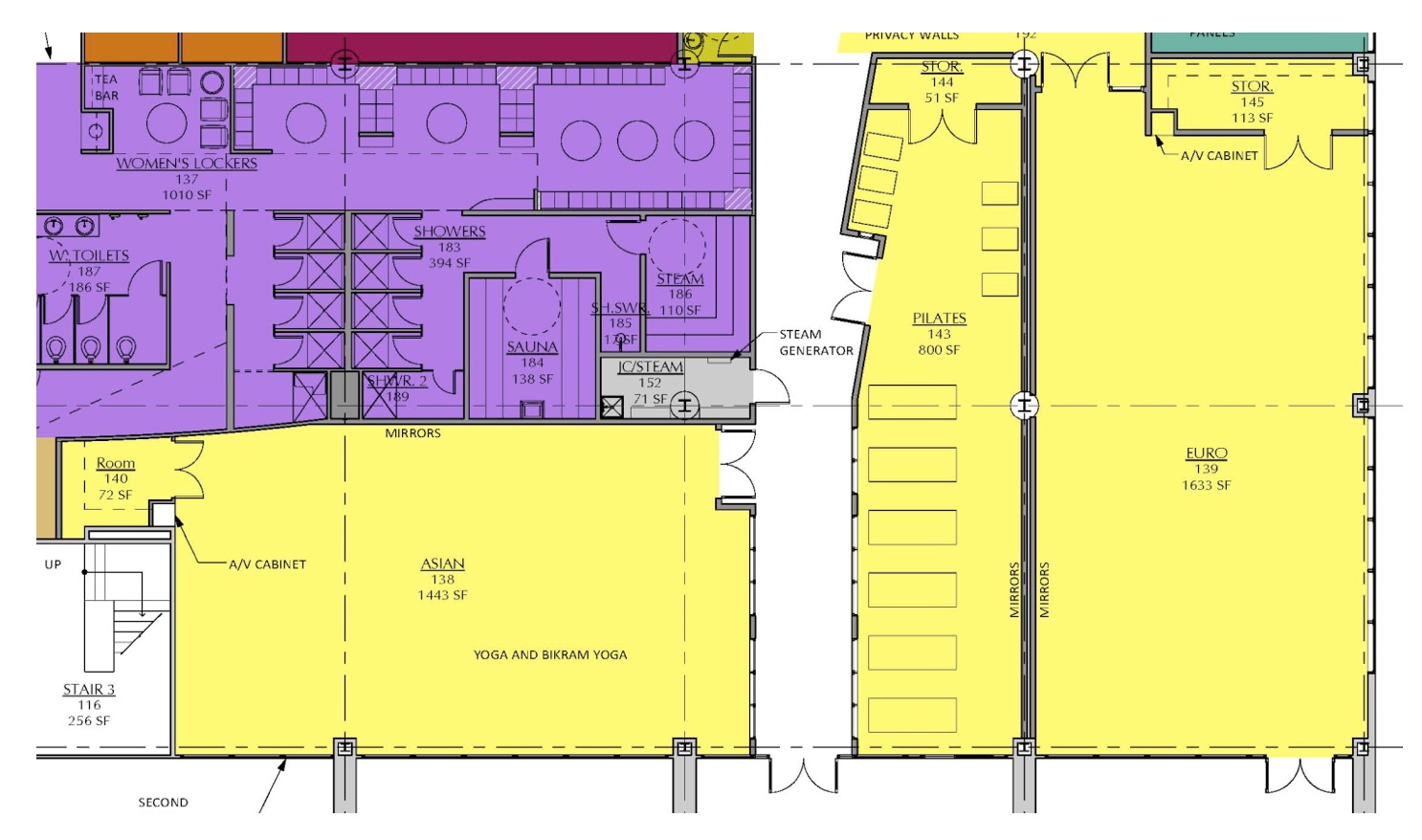 Studios for specific programs – Photo courtesy by Essenza Architecture 
Your programming will then set the tone for the design of your new space. Will it be subtle, relaxing earth tones that you would want in a yoga room or high energy colors with a punch that could go in boot camp/TRX type of studio. There are many choices and many elements to consider when designing your space.
Adding interest to a fitness studio is key to creating a great space for members to work out and socialize. Designing fitness studios that are inviting yet functional can help create a better experience for your members. There are a number of components in fitness studio designs to consider. Each of these are beneficial in creating better spaces that will enhance the use of the space and will be more inviting. Do you want dramatic spotlighting, or soft indirect light? Having the correct style and types of lighting can make a big impact on your space and how it functions.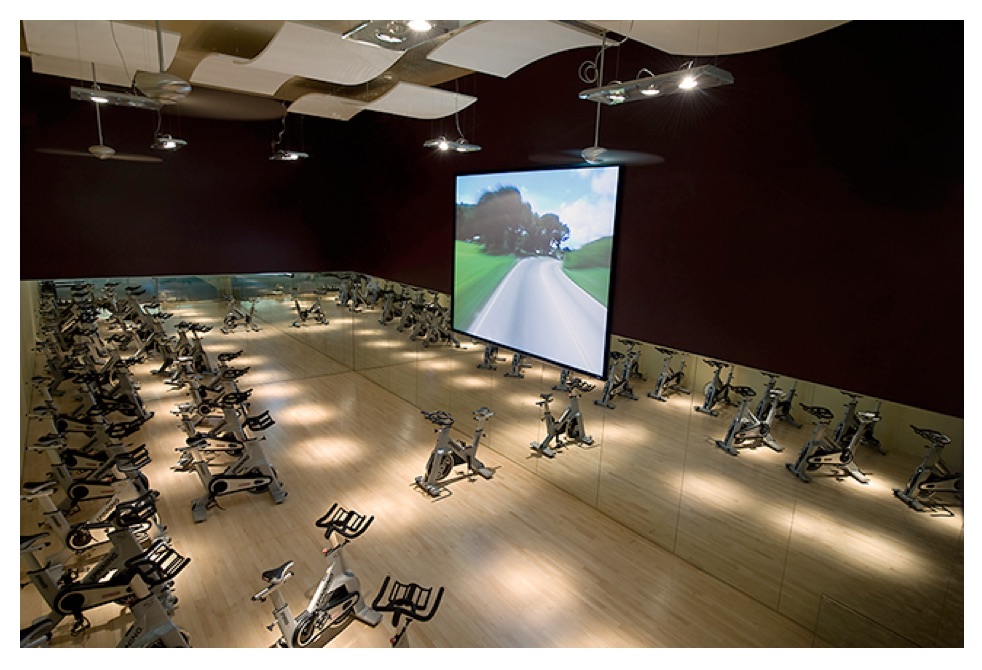 Dramatic spotlights, sound canopies, large screen, and fans to help air movement are all part of this studio
dedicated to cycling – Photo courtesy by Essenza Architecture
Design elements to think about would include the flooring selection (for function and safety of your members), colors, storage areas, support facilities, natural daylighting, areas to house the A/V equipment, mirror placement, mechanical systems, sound proofing, and specialty ceiling elements to help with acoustics and to create movement in your space. These items listed above will be discussed in greater detail in one of our future articles.
Opening up your own studio is no small feat, but it can be done with proper planning and programming. Understanding your location and demographics will be critical in determining your studio's success. Once you have worked through the planning items you can develop a design that matches your programs and the character that you are trying to achieve. Designing your space to match your vision will help strengthen the brand and support the future success of the studio.
 
--
Christa Plaza AIA, LEED BD+C, USGBC, and AFS is a principal and architect at Essenza Architecture specializing in fitness center designs.   She has a great passion for listening to clients' visions and turning them into built spaces. Essenza Architecture is an international, eco-friendly firm that blends beauty with function. With over 30 years of experience, Essenza creates visually interesting and innovative club spaces. Christa can be reached by email at christa@essenza-arch.com