PHIT Act Introduced in U.S. Senate
(SILVER SPRING, MD, via Sports & Fitness Industry Association [SFIA]) – On October 29, Senators Chris Murphy (D-CT), John Thune (R-SD), Johnny Isakson (R-GA), and Joe Donnelly (D-IN) officially introduced the Personal Health Investment (PHIT) Act (S.2218) in the U.S. Senate in Washington, DC.   
PHIT is the SFIA's top legislative policy initiative – and one embraced by AFS - designed to make physical activity more affordable for Americans. Having a Senate companion to the House of Representatives PHIT bill (H.R. 1218) marks the first time the PHIT Act has been introduced in both chambers of Congress, which is critical to moving the PHIT Act through Congress. 
"Having Senators Thune, Donnelly, Isakson, and Murphy lead the Democratic and Republican efforts in the Senate is tremendous progress and reinforces the bi-partisan nature of the PHIT Act," said Bill Sells, SFIA's Vice President of Government & Public Affairs.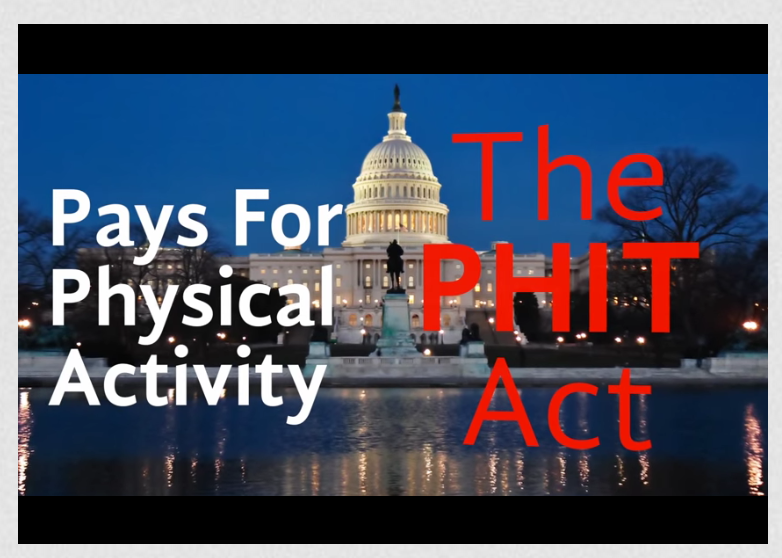 "Our physical activity message is resonating through the halls of Congress. We're happy to have reached this milestone, but our work to increase physical activity in America will continue until the PHIT Act gets passed; the future health of Americans depends on healthy, active lifestyles and the PHIT Act will help lower the financial barrier of being active."
The bipartisan nature of the PHIT Act is clearly demonstrated in the composition of its co-sponsors in the House - 21 Democrats and 21 Republicans.
"Having even support for the PHIT Act by Democrats and Republicans reaffirms that physical activity has no political affiliation," said Sells. A list of current congressional co-sponsors can be viewed at: http://1.usa.gov/1KCRJFC.
"This is a bi-partisan effort in both Houses of Congress," said Larry Weindruch, Director of Public Affairs for The National Sporting Goods Association (NSGA). "NSGA is a vocal and active supporter of the PHIT Act because it lowers the cost barrier preventing many Americans from being active, fit and healthy. We urge our members to contact their U.S. Senators and Representatives to put their support behind this important effort."


The PHIT Act would change the IRS definition of a "medical expense" to include physical activity as a form of prevention.  Expanding the medical expense definition would make physical activity expenses reimbursable using pre-tax dollars in Health Savings Accounts (HSAs) and Flexible Spending Accounts (FSAs) and would allow consumers to deduct physical activity costs once they meet the 10 percent of income threshold on medical expenses.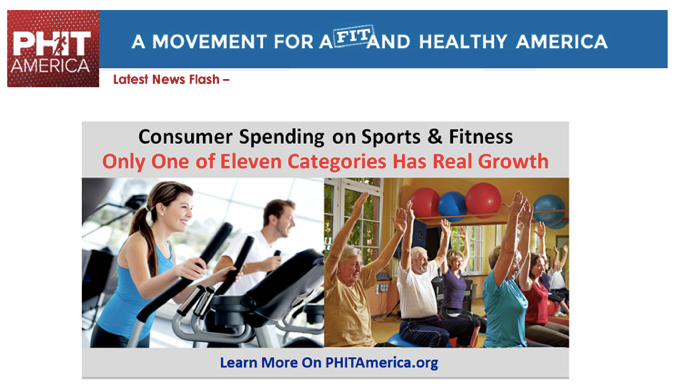 Eligible expenses would include gym and studio memberships, fitness & exercise classes, youth & adult sports' registration fees, camps & clinics, and sports & fitness equipment solely used to participate in a physical activity. 
A World Health Organization study found that every dollar the U.S. invests in physical activity would result in a $3.20 reduction in future medical spending. With physical activity in decline and obesity on the rise in America, the PHIT Act would help encourage physical activity as a way to reverse this trend and reduce health care costs. 
Over the next several months, SFIA and its PHIT Coalition partners will further ignite efforts on Capitol Hill to pass the PHIT Act. In addition to SFIA's annual National Health Through Fitness Day, scheduled for March 8-9, 2016 in Washington, D.C., plans are underway to launch a major social media campaign to generate awareness and prompt a call to action for the legislation at the grassroots level.
Make your voice be heard!
Contact Us to Learn More About What You Can Do

ABOUT SFIA:  The Sports & Fitness Industry Association (SFIA), the #1 source for sport and fitness research, is the leading global trade association of manufacturers, retailers, and marketers in the sports products and fitness industry. SFIA seeks to promote sports and fitness participation as well as industry vitality through research, thought leadership, public affairs, industry affairs, and member services. For more information, please visit www.sfia.org.