NEWS RELEASE
SUCCEED! 'Succeeds' Again!
'3,200+ Registrants, Expo, Keynotes, Highlight Conference'
(MINNEAPOLIS, MN, November 17, 2020)  – The Association of Fitness Studios (AFS) announced today that the SUCCEED! Virtual Conference & Expo (October 23-25) exceeded expectations.
Building on the incredible success of its May education-only event, SUCCEED! events in 2020 delivered (to date) nearly 8,000 registrants, 35 exhibitors, and a hands-on Expo featuring 2,280 unique visits (any user, going into any booth the first time), 3,863 total booth visits and 1,555 clicks inside booths. Access to the event is open through the end of the year. 

Educationally, the SUCCEED! Virtual Conference featured keynote presentations by industry icons Bedros Keuilian and Rick Mayo and 30 additional sessions by leading fitness business experts. 
"We're thrilled with the event, especially given it was a first-time virtual Conference with Expo," said Josh Leve, AFS Founder and CEO. "While there's still work to be done, we hugely appreciate and thank everybody who contributed: attendees, exhibitors, speakers, and marketing partners."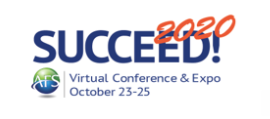 "I especially want to call out our incredible AFS staff, specifically our IT Director Jose Onate who created the website and Expo templates, and Sara Allen, our Director of Member Services, who helped exhibitors create and build their virtual booths – a 'first' for all concerned."
Additional highlights of the event included a fun gamification component with prizes, a virtual 'swag bag', CECs/CEUs, and free access for attendees. SUCCEED! also featured pre-Conference education, sponsor presentations, and one-on-one interactive networking opportunities. 
While no 2021 dates have yet been announced, with the likelihood that COVID will still be a market factor, AFS' intent is to gather data from all parties, make improvements, and host additional SUCCEED! virtual events in the coming year.
More information will be posted on www.afsfitness.com and www.succeedwithafs.com.
About AFS 
The Association of Fitness Studios (AFS) is the only membership community dedicated solely to the business of fitness studios and gyms.  AFS provides owners and fitness professionals a wide array of business-specific products, services, and benefits that enable them to more effectively manage and grow their businesses, building on the passion, compassion, and courage they've already shown. AFS educational offerings include SUCCEED! events, the first-ever major Business Conventions & Expos - both in-person and virtual - for the fitness industry.
About SUCCEED! Virtual Conferences & Expos 
When COVID-19 forced the postponement of SUCCEED! 2020, the need for an educational event became even more pronounced. AFS realized that staying engaged with its audience was more important than ever – the identical challenge facing its members. The concept of virtual events made all the sense in the world - a Online Conferences to help studio owners with immediate strategies to accelerate their fitness business during uncertain times.