NEWS RELEASE
SUCCEED! Continues its Hot Streak of Impressive Virtual Conferences
"2000+ attendees, nearly 15,000 page views, and new lead generation features for sponsors highlight the event's success"

(MINNEAPOLIS, MN, September 2, 2022) – The Fitness Business Association (FBA) is ecstatic with the performance of its latest SUCCEED! Virtual Conference.
Proving that virtual conferences if done right are here to stay, the event again had over 2,000 attendees, increased to 80+ sessions, included a Fireside Chat with NPE, keynote from Shannon Fable and several additional significant enhancements which included...
A new education format "Quick-fire" 20-min education pre-con sessions
An entire day focused on exercise technique, nutrition, programming - all for trainers, instructors and coaches
A lead generation/SWAG bag option for every attendee
New engagement tools increase virtual participation and engagement
Live Q&A sessions hosted by all SUCCEED! speakers
As the event continues to excel, even more impressive is that 97% of attendees would come back AND refer their friends to attend SUCCEED!
"We're thrilled by the success of our SUCCEED! Virtual Conferences. Providing some of the best educators this industry has to offer in a convenient format that's accessible and affordable for everyone has been the catalyst for our growth," said Josh Leve, FBA founder and CEO. "However, we know we've just scratched the surface with our virtual event model. With new technologies emerging every day coupled with attendee and speaker feedback we've got HUGE things in store for 2023, so stay tuned."
 
What Attendees are Saying...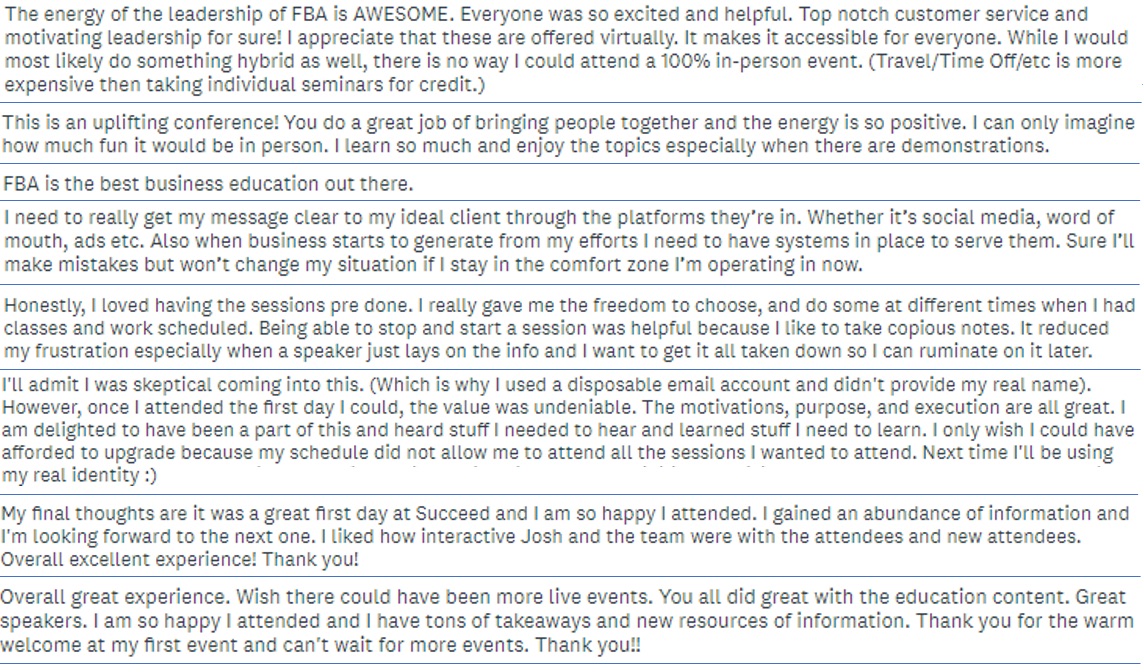 Next up for SUCCEED! is its second Innovation and Solutions Summit taking place November 11-12, 2022 where vendors and sponsors take center stage. 
"We're excited about what SUCCEED! has grown into and our entire team has worked tirelessly to create a brand that is being recognized as the premier virtual conference event in the fitness industry," said Leve. "I've said it before and I'll say it again but just like virtual training for the consumer, there's a massive market for our audience that craves and appreciates the convenience and flexibility of learning from home. And we're going to be there every step of the way, not going back to where the industry was, but meeting the industry where it is today."
More information will be posted on www.fbafitness.com and www.fbasucceed.com
About the FBA
The Fitness Business Association (FBA) is the only membership community dedicated solely to fitness businesses of all types. FBA provides owners and fitness professionals a wide array of business-specific products, services, and benefits that enable them to more effectively manage and grow their businesses, building on the passion, compassion, and courage they've already shown. FBA educational offerings include SUCCEED! Fitness Business Conventions & Expos - both in-person and virtual.

About SUCCEED! Conferences & Expos
Launched in May 2019 as an in-person event, and continuing with four COVID-induced virtual events in 2020 and 2021, SUCCEED! Conferences & Expos have drawn over 20,000 owners, operators, fitpros, and aspiring fitness business owners of all types. The next event is the SUCCEED! Innovation and Solutions Summit, November 11-12, 2022.