FOR IMMEDIATE RELEASE
SUCCEED! Success Streak Continues!
'4,300+ Registrants, Awards Ceremony, 50+ FREE Sessions Highlight Conference'

(MINNEAPOLIS, MN, March 10, 2021) – The Fitness Business Association (FBA) – formerly the Association of Fitness Studios (AFS) - announced today that its first FBA-branded SUCCEED! Virtual Conference & Expo (March 2-7) exceeded expectations, continuing to deliver cutting-edge education and business interactivity to the fitness industry.
Building on the incredible successes of its May and October 2020 events, SUCCEED! virtual events have now delivered nearly 15,000 registrants. The recently concluded March event delivered a modest shift in registrant demographics with an uptick in the Fitpro category in addition to the traditional SUCCEED! audience of owners/operators and aspiring owners.
"Our rebrand from AFS to FBA resonated with our audience," said Josh Leve, FBA Founder, and CEO. "We're learning with each event that there's a wide variety of fitness businesses. FBA and SUCCEED! will continue to address the issues to enhance their profitability." 
The March 2021 event featured keynoters Emma Barry and Shanda Sumpter, an awards ceremony to hand-out the FBA Fitness Business of the Year and FBA Influencer of the Year, four 2-hour workshops, 25 exhibitors, and over 50 educational sessions. The seminars included nine events hosted by leading industry vendors, attracting over 900 attendees and acknowledging that solutions to fitness business problems can be found in both the seminars and expo.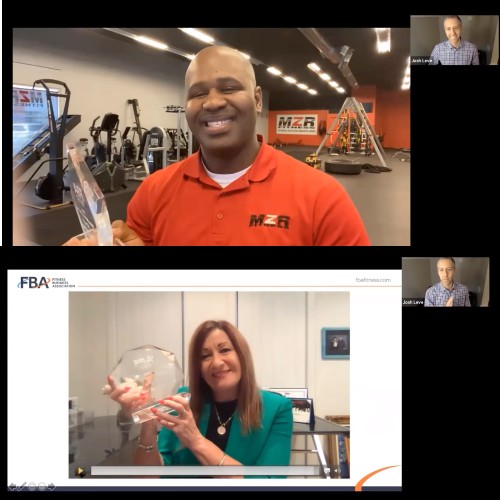 FBA awards were handed out to Mike Robinson of MZR Fitness in San Luis Obispo, CA for Fitness Business of the Year and Mel Tempest for Influencer of the Year out of Melbourne, Australia. (both pictured right). 
"Any time you're rebranding while also promoting an event, it can be tricky," said Leve. "Our incredible FBA staff - specifically our IT Director Jose Onate and Sara Allen, our Director of Member Services - were there every seamless step of the way."
Additional highlights of the event included pre-Conference workshops, an interactive pre-event "waiting room" a virtual forum, an exciting gamification component, and CEC/CEUs opportunities.
The next SUCCEED! event will be this August (dates to be announced soon!) and promises to deliver an even greater educational experience.
"As always, we strive to build on our success and improve where needed," said Leve. "As we gather feedback from attendees and exhibitors, we'll ensure the next SUCCEED! event is the best yet."
More information will be posted on www.fbafitness.com.
About the FBA
The Fitness Business Association (FBA) is the only membership community dedicated solely to fitness businesses of all types. The FBA community provides a wide array of business-specific education, products, services, and benefits - building on the passion, compassion, and courage these studios, gyms, and fitness professionals have already shown. FBA educational offerings include SUCCEED! Fitness Business Conventions & Expos - both in-person and virtual.

About SUCCEED! Conferences & Expos
Launched in May 2019 as an in-person event, and continuing with two COVID-induced virtual events in 2020, SUCCEED! Conferences & Expos have drawn over 8,000 attendees – the fitness gathering during that time period. The next event is the SUCCEED! Virtual Conference & Expo, August 2021.