NEWS RELEASE
New online fitness membership PRO+ by Virtuagym helps gyms generate revenue during lockdown 
- With PRO+ gyms and studios stay relevant for their members who are staying at home 
- This rich digital membership experience offers weekly content on food, fitness, wellness, video workouts, audio meditations and challenges, directly accessible through the gym mobile app
- This enables fitness entrepreneurs to maximise member engagement and revenue during the lockdown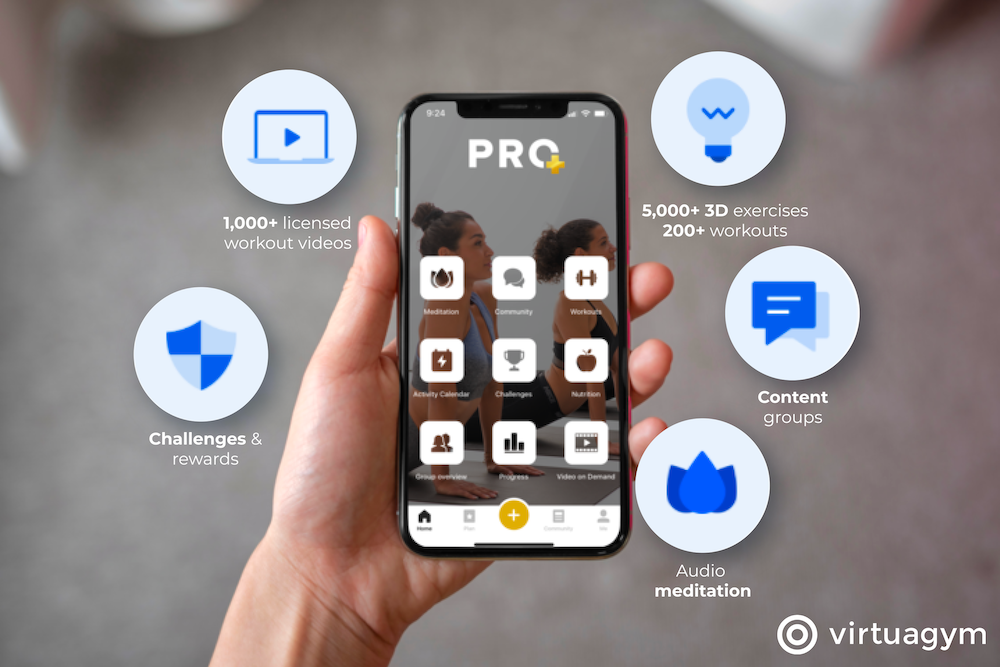 (Thursday, 14th January 2021) Virtuagym, the leading provider of fitness technology for gyms and trainers, has announced the launch of PRO+, a new solution that enables operators to generate revenue while being closed and upon reopening, by offering members a turnkey digital membership experience through their club mobile app. 
PRO+ is comprised of a wide array of content, including weekly community group updates on nutrition, training, and wellness, 200+ virtual trainer workouts, monthly prize challenges, 1,000+ licensed workout videos plus a library of audio meditations for a holistic wellness experience. 
"As clubs are closed, it is essential for providers to adopt digital technology to keep their members engaged and revenue going," says Hugo Braam, CEO of Virtuagym. "However, offering a rich and engaging digital content subscription that people are willing to keep paying for is not easy and requires a lot of resources. That's why we developed Virtuagym PRO+."
App usage amongst Virtuagym customers accelerated heavily in 2020, with fitness providers quickly adapting to the 'new normal' to drive their digitalization forward. Findings from the Virtuagym Corona Impact Study across 6,000 European fitness businesses revealed that fitness app usage increased by 340%, whilst the creation of training plans increased by 100% at the start of the pandemic. From January to October last year, Virtuagym also saw a 175% increase in group class bookings, with people eager to stay connected when training, either in a physical location or online. 
"Following the example set by larger chains, I see many clubs choosing to offer all of their online content for free. I believe this is a big mistake. Independent clubs can generally rely on a high level of customer loyalty and they should be looking to make the most of this. Just call upon your individual members and ask them to support you for a regular or smaller monthly fee in exchange for your online services. We've seen this work extremely well across many of our customers. Don't be afraid to ask for help – especially if you are giving great online content in return!" 
PRO+ is now available for gyms and studios globally. 

About Virtuagym 
Virtuagym is a provider of fitness technology for coaching, member engagement, and club management. The platform delivers a complete ecosystem with integrated mobile apps with solutions for exercise and nutrition guidance, progress tracking, wearables, online coaching, scheduling, billing, and more. 
With 200+ employees and centrally located offices in Amsterdam and the Americas, Virtuagym supports more than 16 million consumers, over 7,500 fitness businesses, and 30,000+ trainers worldwide, including Workout Anytime, XSport, Newtown Athletic Club, Rochester Athletic Club. For more details, visit business.virtuagym.com