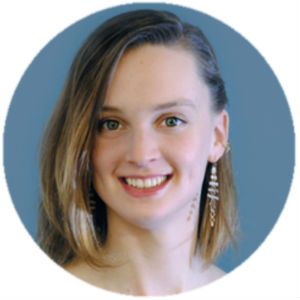 By Jennifer Miller, Special AFS Contributor
As a fitness business, strategically incorporating multiple revenue streams is the best way to create a solid foundation for financial success. Hosting member and community events are often overlooked as an income source despite having multiple retention, lead gen, and marketing benefits. Depending on your goals, you can charge for events or host them for free.
This is important for several reasons...
It keeps loyal members & attracts new ones
Events help to create a stronger sense of community in your gym. A shared experience will assist in bonding between members and feeling loyalty toward your establishment. They also will attract people from the local area who haven't been in your gym or know little about what you do.
You stay fresh on social media
You'll have content to post before, during, and after an event on your social media accounts. Photos and video are particularly powerful. They show that you have an engaged member base. Much like a restaurant with a full parking lot, you'll have more people curious about your services and programs.
Bonus: Have your attendees tag themselves in your posts on Facebook and Instagram. Your reach will then extend to their online social networks.
It promotes positive word-of-mouth 
Positive interaction with members, non-members, and other local organizations with which you may partner will enhance your reputation and word-of-mouth.
Need creative event ideas for the new season? Start here.
With the official start of summer, particularly if you're in a region that has more distinguished seasons, it's a great time to take your events outdoors. Try one of these ideas to get all of the benefits of hosting events and to shake up your gym's usual routine.
1. Yoga (with the option of adding your animal of choice) 
This is an easy way to partner with a local shelter, if you so choose, for fundraising. Fundraisers give you the opportunity to form new partnerships, to address a need in your community, and to demonstrate your gym's values.
On behalf of your members and community, yoga is a great compliment to HIIT workouts, endurance training, and heavy lifting training because it focuses on mobility and creating a mind-body connection.
Take a day with mats outdoors at a local park or green space that's easily accessible or popular. Check with local officials to understand special regulations or advisories during your planning process.
2. Family Field Day (or just adults, depending on your demographic)
Active playtime, even for adults, is important for stress relief and creativity. Field days are perfect for that. Invite parents to bring their children or have an adult-only day for your members. Set up outdoor games like cone races, jump rope, relays, and other activities at a local park or school football field. Have prizes for the successful completion of challenges.
3. Obstacle Course or Treetop Adventure Course
With the popularity of adventure races and American Ninja Warrior, obstacle courses have become more available in various forms. What's great about an obstacle course outing is that members and guests can apply the strength that they have in fun, challenging ways.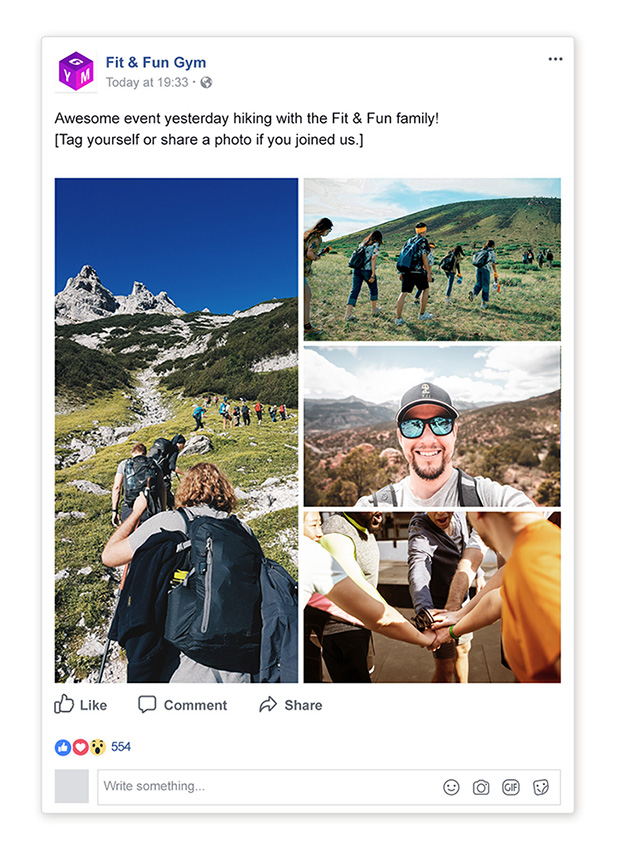 This also is another opportunity to partner with a local business to expand your professional network for future collaborations.
4. Hiking 
Any time in the woods is a good time. And putting together a hike is a low-cost option if you're just starting out with an event budget. This is an easy way to customize your outing depending on ability, particularly if you have a diverse, multigenerational member base. Flat trails are good for beginners while trails with steep inclines are great for more advanced members.
5. Bootcamp & Brunch
Perfect for the weekend! Lead members through an intense workout and then celebrate with brunch potluck or go to a local restaurant of your choice.
6. Pump in the Park
Show off your expertise by leading a bodyweight workout in a local park. Use playground equipment, benches, hills, and other features for an intense sweat session.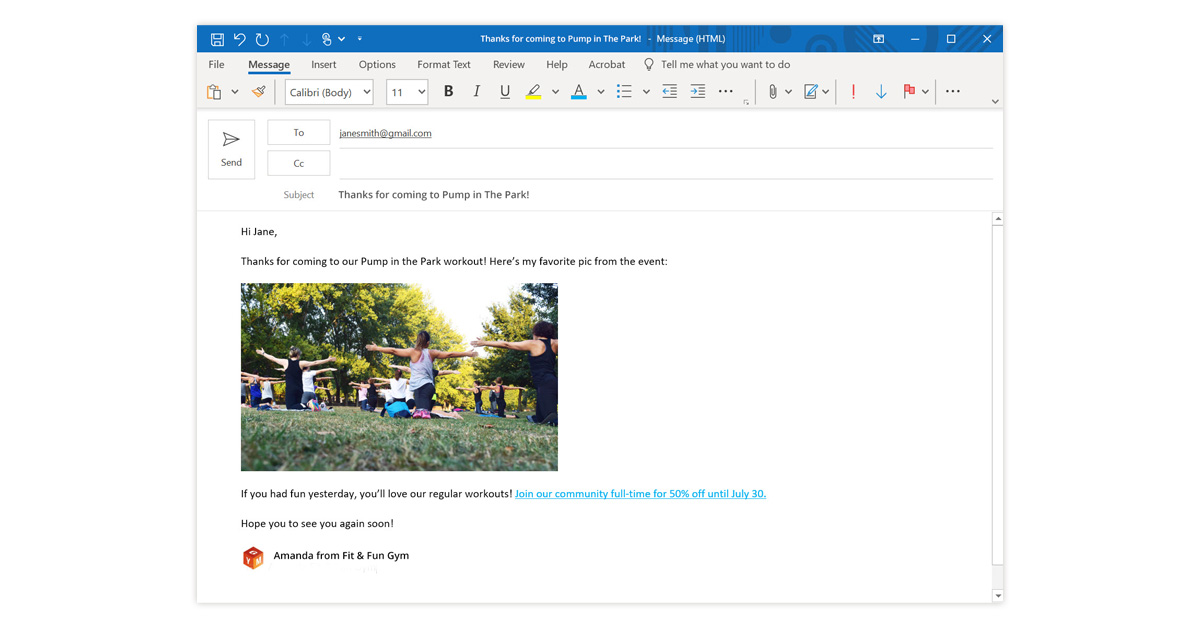 7. Kayaking/canoeing/paddleboarding
Check out rentals to take advantage of exploring local beaches, lakes, and rivers. It's a fun way to work out and learn a new skill.
---
Jennifer Miller is the Marketing Specialist at Member Solutions, helping fitness businesses create stronger relationships with their members and communities. Hobbies include yoga, reading, travel, and the constant pursuit of the perfect one-liner. For more information about how you can better build relationships and revenue, go to membersolutions.com/request-demo to schedule your free consultation.