FBA Members Start Up for Only $197! Over 40% Off Start Up Cost!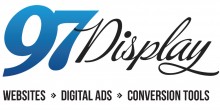 Contact Information:

 Emily Naehring 


 888-973-4775


 Emily@97Display.com​


 http://97display.com/ 
Special Offer:
FBA members can get on board with 97 Display's lead-generating website, conversion tools, and lead converting app at the best rate they offer - a start up of only $197 for the first month. Contact Emily at the email or number provided and let her know you are an FBA member.
About 97 Display
97 Display is dedicated to connecting your business to your community. They create lead-generating websites customized to your brand that convert 4-6x faster than any others in the fitness industry. That means you get more clients in your door that need your help, growing your business and exceeding your goals every month. 
Hundreds of fitness businesses worldwide trust 97 Display and their all-in-one internet marketing platform, which includes:
Lead Nurturing Tools 
Localized SEO Optimization
Seamless CRM Integration
LEADCORE: Lead Management App
The Best Customer Support in the Industry
Learn more here about how 97 Display can help bring in quality leads to your business. 
History
97 Display started in 2011 with the goal of helping martial arts and fitness businesses connect with the people that needed them. The success of their data-driven, lead-generating websites saw them triple in growth each year, and they are now the premier choice for lead generation and internet marketing for the fitness industry. 
97 Display In the Fitness Community
"I've been extremely pleased with the service and hard work the team has put into my site. [97 Display] did a wonderful job in asking the right questions, guiding me, responding quickly to my adjustments, and creating a clean, easy-to-use site. Thank you to all of them!" - Raeanne Niemer, Get Empowered Fitness Studio.
97 Display is solely focused on empowering people. They start with their own people, building a great company from within that fuels a positive impact in the local communities of their clients. They custom design their websites to match your unique needs and provide the best customer support you can find in the industry. 
Reach out to them to find out more about how they can customize digital marketing solutions for your business.
---
Connect with 97 Display
FBA members receive special pricing on many products and services.
Connect with a 97 Display representative to learn more about these opportunities!