$250 off Any Bio Impedance Analyzer Purchased Through Spartan Wellness Technology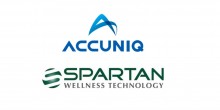 Contact Information:

 Marla Kaminsky ​


 248-845-2122​
marla@spartanwellnesstechnology.com


 spartanwellnesstechnology.com
Special Offer:
AFS Members receive $250 off any bio impedance analyzer purchased through Spartan Wellness Technology, an independent distributor of Accuniq in the United States.  
Contact Marla for additional Details
About ACCUNIQ & Spartan Wellness Technology
ACCUNIQ, distributed by Spartan Wellness Technology, is a Global leader of Body Composition Analyzers, committed to providing the most accurate, innovative, functional units on the market.  ACCUNIQ is sold through partners like Spartan Wellness Technology. 
The Spartan Wellness Technology Team are experienced industry professionals. SWT provides everything necessary for a fitness environment to successfully implement this technology.  With SWT you can expect:
Onboarding Training
Continuing Education
Technical Support
Marketing Support
History
ACCUNIQ has been manufacturing bio impedance technology for over a decade, leading the industry in research and technology advancement while providing affordability that doesn't compromise accuracy or quality.
The Spartan Wellness Technology team are industry professionals with expertise in body composition as a whole, bio impedance specifically and fitness technology in general.  SWT team members are educators and experts.
ACCUNIQ & Spartan Wellness Technology In the Fitness Community
Accuniq offers a range of bio impedance analyzers and other innovative technology at affordable prices. 
Spartan Wellness Technology helps you implement the technology using your strategic goals.
When purchasing technology, ask yourself:
Is the sales person an industry expert?
Are they YOUR advocate, even at the cost of losing a sale?
Does the company work with you after the purchase?
ACCUNIQ and Spartan Wellness Technology respect that for smaller fitness studios, every dime matters. We do everything we can to make your investment work for you.
---