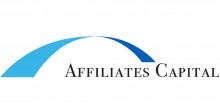 Contact Information:

 Janet Leung, Vice President


 626-297-8440


 Financing.Leung@gmail.com


 www.affiliatescapital.com/
Special Offer:
Affiliates Capital provides tailored financing programs for fitness, non-fitness equipment and much more. Down payments waived for AFS members and only 1 advance payment with approved credit! 
About Affiliates Capital
Affiliates Capital is experienced to assist you with any financing needs for both fitness and non-fitness equipment, re-financing, construction loans, start-ups, real estate loans, acquisitions, and working capital.
We provide many financing and leasing programs, including the SBA loan program. Some restrictions regarding time in business, credit profile, financial situation, or equipment type, but your Affiliates Capital vice-president will discuss your specific needs with you and help you select the financing solution that is right for you.
History
Affiliates Capital has been in business for several years and our financing specialists have over 50 years of combined experience to service your financing needs.
Our objective is to provide you with fast and innovative financing solutions at competitive rates and workable terms. We take the time to understand your business and financing needs so that we can represent clearly to lenders the "who, what, where, when, why, how, and how much" of your request.
Affiliates Capital In the Fitness Community
We know your time is money which is why we handle the financing process every step of the way so you don't have to. We want to complete your transaction quickly, so you can start enjoying the benefits of your purchase as quickly as possible.
Affiliates Capital looks forward to the opportunity to earn your fitness studio business not just for today, but also for the future. We want to be your long-term financing partner and we understand this requires us to earn your loyalty one transaction at a time. Please remember, you are our customer, not lenders.
---