NEWS RELEASE
AFS Award Winners Announced at SUCCEED!
Rick Mayo, Fitness Business of the Year
Alex Isaly, Influencer of the Year

(OAKLAND, CA, April 29, 2019)  –  On April 14, the Association of Fitness Studios (AFS) awarded its prestigious two annual awards at SUCCEED! – its inaugural Business Convention & Expo for current and aspiring studio/gym owners.
The AFS Fitness Business of the Year award was won by Rick Mayo, owner of Alloy Personal Training Center, Roswell, GA. The award represents a studio or gym that excels in all areas of business,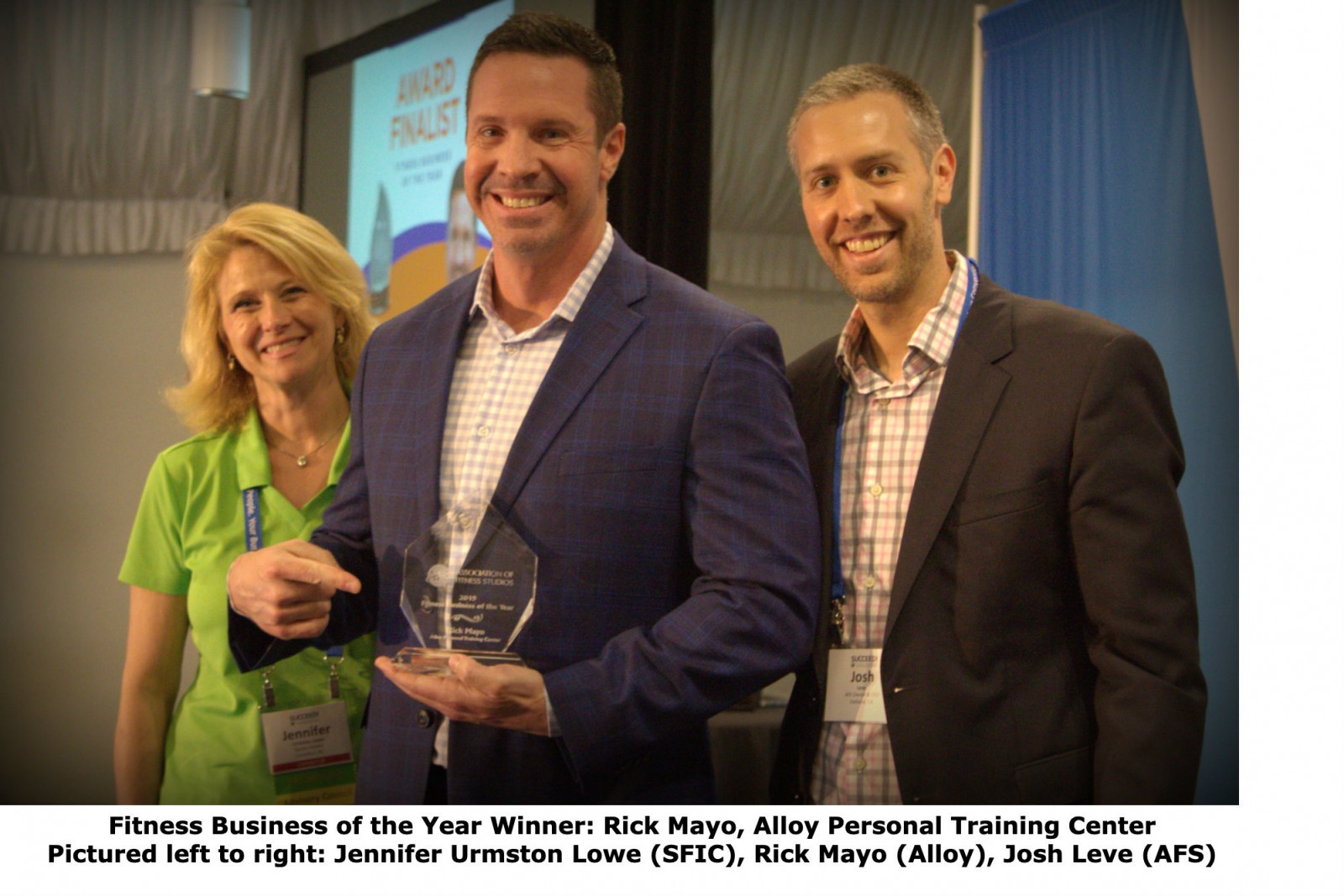 and whose owner has demonstrated the ability to create unsurpassed customer experiences, dedicated staff, motivated clients and leadership in their community.
The AFS Influencer of the Year award was won by Alex Isaly, owner of Life Time, Inc., Laguna Niguel, CA, The award represents an individual who has significantly contributed to the health and well being of society through various communication vehicles to enhance the value of fitness in a manner that stimulates and motivates participation.
Both awards were sponsored by Matrix Fitness and Sports & Fitness Insurance Corporation.
"With over 100 applicants for these awards, the quality of the nominees was incredible," said Josh Leve, AFS founder and CEO. "That said, the accomplishments of Rick and Alex were impossible to ignore. They are truly well-deserving leaders in our industry."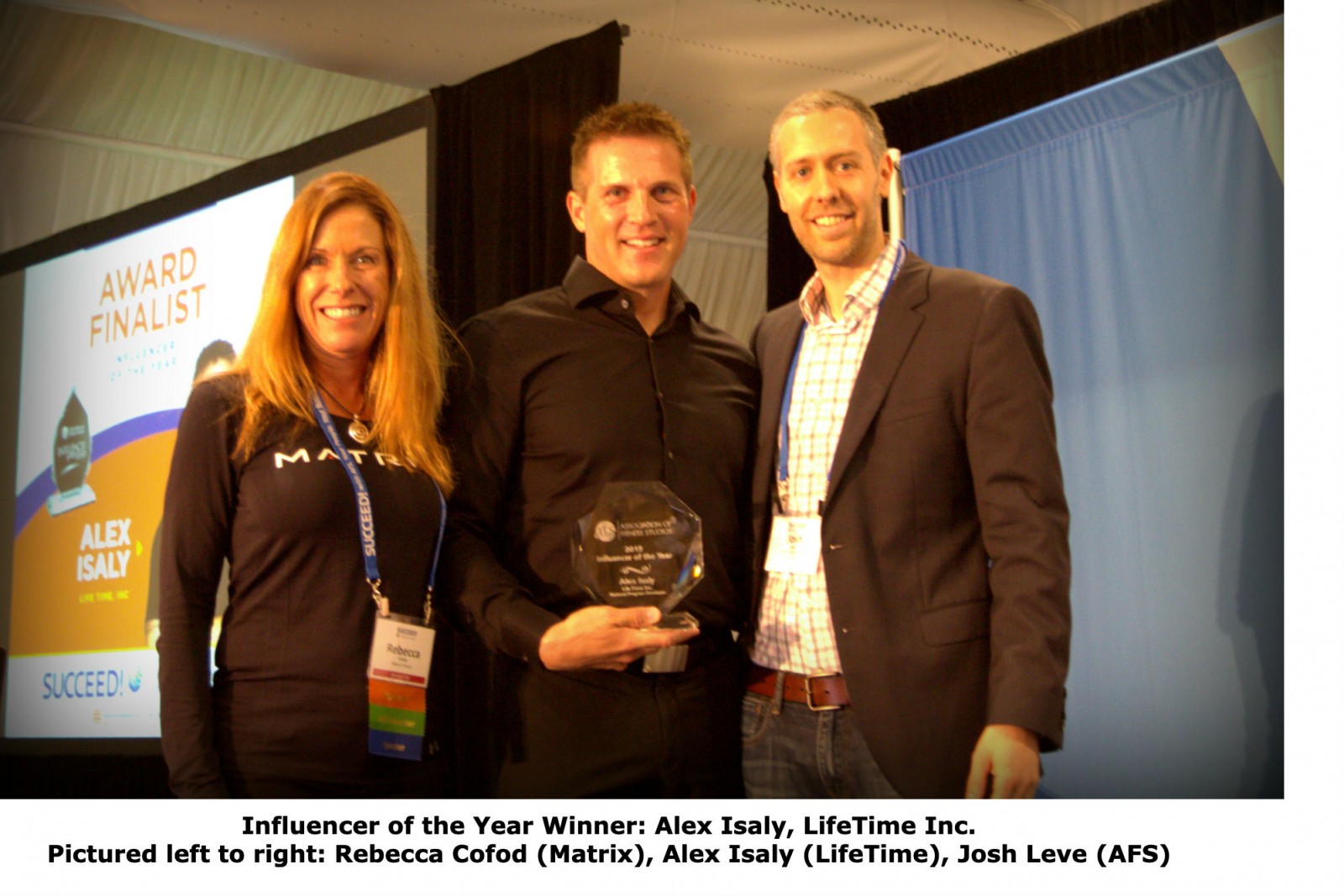 Other finalists for the Influencer of the Year award were Mel Tempest, the Gym Owners Business Network and Podcast, South Ballarat, Australia, and Petra Kolber, author and choreographer, New York, NY.
Other finalists for the Fitness Business of the Year award were Latasha Lewis, Tadda's Fitness, Decatur, GA, and Dwayne Wimmer, Vertex Fitness Personal Training Studio, Bryn Mawr, PA.
"The quality and the contributions of all of the finalists was off the charts," said Leve. "We're incredibly proud that industry leaders of such high regard saw fit to participate in our awards program."
More information on the winners and finalists can be found at:
Rick Mayo… http://rickmayo.com
Latasha Lewis… http://taddasfitness.com/
Dwayne Wimmer… https://www.vertexfit.com
Alex Isaly… https://alexisaly.com/
Petra Kolber… https://petrakolber.com/ 
Mel Tempest… https://meltempest.net
-30-
About SUCCEED!
SUCCEED! is an event like none other in the fitness industry with education solely dedicated to fitness businesses of all sizes, disciplines and tenure for entrepreneurs looking to take the next step in their career. The event features pre-cons, educational tracks, an Expo highlighting new technologies and equipment, with networking and social events throughout.
About AFS
The Association of Fitness Studios (AFS) is the only membership community dedicated solely to the business of fitness studios.  AFS provides studio owners and developers a wide array of business-specific products, services, and benefits that enable them to more effectively manage and grow their businesses, building on the passion, compassion and courage they've already shown – including SUCCEED! - the first-ever major Business Convention & Expo for current and aspiring studio/gym owners.