AFS Code of Conduct
AFS members must agree to operate their business to a higher level of standard according to the following Code of Conduct: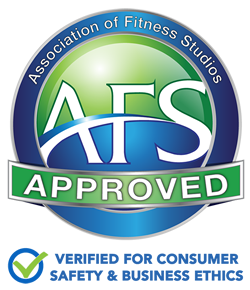 Treat each client with personal respect while addressing their needs on an individual basis 
Design and implement programs and treatment built on the foundation of client health and safety
Abide by all local, state, and federal laws
Deliver on our commitments
Be an equal opportunity employer and provide equal access and fair treatment to all clients
Our trainers and instructors stay current on the latest health and fitness research
Maintain CPR and AED certifications
Conduct business in an ethical manner that enhances respect for our industry
Maintain the confidentiality of all client information
Never lose sight of customer satisfaction as our driving force
If a member, client or consumer of an AFS studio/gym witnesses any behavior that would warrant further action, they may file a complaint here. 
AFS Core Values - What the Association of Fitness Studios Stands For...
Integrity – operating at all times with the highest degree of honesty, reliability, and trust to enhance the image of our industry
Community – cultivate an environment of sharing, networking, and pride in delivering an important component in the healthcare continuum
Commitment – to remain devoted to the fitness and studio industry with enthusiasm and the highest level of customer service
Credibility – assuring that information provided by AFS is consistent with industry norms and best practices, whenever possible
Empowerment – providing the necessary tools for AFS members to implement programs and access benefits to help grow their business
AFS Mission Statement
The mission of the Association of Fitness Studios (AFS) is to ensure our vibrant community of current and aspiring studio/gym owners are equipped with the tools to greater enhance marketability, management efficiency, and profitability while supporting societal programs that promote the benefits of living a healthy lifestyle.