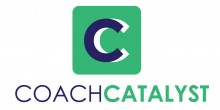 About Coach Catalyst
The fitness and nutrition industry is broken. Everything is about collecting information and data but the major tenets of behavior change, accountability, and coaching get ignored. We steer away from software because it slows us down, is cumbersome, and is an overall pain to use. Most software doesn't actually make our lives easier or improve our ability to do what we do best, coach. 
Our mission at Coach Catalyst is to give you back the one non-renewable resource you want more of, time. All while driving forward the 3 tenets of your business: revenue, results, and retention. 
At Coach Catalyst, we call this the R3 approach. 
Revenue 
Coaches that implement Coach Catalyst to its fullest potential will see a 10-30x ROI each year. By using Coach Catalyst's customizable done-for-you content to create lead generation, deadline driven transformation challenges, evergreen offers, and coaching programs, a studio has more time for marketing and filling the program. 
Results 
When the coaching process is accelerated with a platform and a system to educate, and actually hold clients accountable, results are much more predictable. Successful clients have a tendency to stay longer and brag more. 
Retention 
By creating an easier experience for the client with a clear communication portal and right on their phone access to important data, clients don't have any reason to go anywhere else.
---
$1 for Your First Month + Free Concierge Service ($300 value)!
To unlock this exclusive offer, login or become an AFS Member.
---
History
Coach Catalyst started from a need in our own facilities. Our current systems of accountability, education, communication, and data collection did not scale. One of those "fun" problems with growth. We understood that accountability was the "secret sauce" to our clients' success, but once we grew past a handful of clients, this process became very labor intensive. We needed a better way. 
There are many "client management" systems on the market, but we wanted a tool that would help us strengthen our relationship with the client instead of just collecting data. We wanted a tool that could actually help us hold people more accountable and improve our coaching process. We needed a system that would make us better coaches with better information. 
If the thing we needed already existed, we would have been customers. 
It didn't, so we went on a quest to build it. We are not software people, we are coaches. We own gyms, we drink our own kool-aid and use the software with our own clients every day. 
We built the software for ourselves, but it just so happens that thousands of other coaches needed a similar solution.
Coach Catalyst In the Fitness Community
We help coaches and studios take back their most important asset, time. This allows them to do more of what they do best, coach and change lives.
---
Connect with Coach Catalyst
AFS members receive special pricing on many products and services.
Connect with a Coach Catalyst representative to learn more about these opportunities!
---
Save the entire cost of your AFS membership and drive more revenue simply by doing what you do every year!
Attend a conference or event

Discounts to SUCCEED!, Perform Better and more!

Equipment & accessories to fill your space

Discounts from TRX, Power Systems, Perform Better, MYZONE, MERRITHEW and more

Save on CEC/CEU courses & certifications

From NASM, AFAA, NSCA, FAI, NCCPT and more, we save you money on your continuing education.

Better market your business

Complementary Facebook Advertising Credit, Demographic Analysis with Marketing Plan and 60-minute Coaching Call
Find qualified instructors/trainers

Through a turnkey program offered by AFAA/NASM, join thousands getting top talent. 100% free for qualifying facilities

Website and logo design to get noticed

Comprehensive design solutions that will create the online impression you need

Tax preparation and bookkeeping services

AFS has partnered with JETRO and Associates, a cloud based CPA firm for all your back-end business needs

Software & technology to stay organized and grow

Discounts from MINDBODY, EZFacility, OneFitStop, ZipWhip and more
Want to see how AFS can save you thousands of dollars each year? Use our tool to Calculate Your Savings
---