2 Months Free Base Payroll Service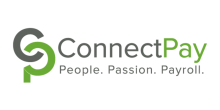 Special Offer:
All FBA members who sign up for payroll services will receive two months of free payroll! Contact a Connected Representative to learn more.
About ConnectPay
ConnectPay offers peace-of-mind payroll to all FBA members. Backed by years of expertise serving the fitness industry, ConnectPay tailors its payroll and tax solutions to meet the needs of every individual fitness studio or gym– connecting those who need it to trusted advisors in accounting, insurance, HR and retirement. Our Connected Service Representative will serve as an extension of your team, there to support your payroll needs, walk you through unknown territory, and offer solutions to problems as they arise.
History
ConnectPay, a service-focused payroll provider, was founded in 2008 by Michael Young and Paul Altavena. Motivated by their desire to elevate small businesses, Michael and Paul wanted to create a company that spoke to the needs of the small business community. Michael and Paul recognized that small businesses, which are the backbone of our economy, have a growing need for business efficiency – and true business efficiency is rooted in hassle-free payroll.
ConnectPay's winning combination of responsive service and interactive technology leads to a seamless payroll process that allows business owners stay focused on what they do best – running their business.
Built for people. Driven by passion. Focused on payroll. Learn more at www.ConnectPayUSA.com.
ConnectPay In the Fitness Community
ConnectPay aims to empower the fitness community by giving business owners back the time they need to run their studio or gym. With years of experience supporting small businesses in the fitness community, ConnectPay will become your trusted partner, growing alongside your evolving business.

Here are some of the ways ConnectPay can support your studio:
Payroll is managed on an automated, cloud-based platform that guarantees consistency and accuracy – recent updates also account for COVID-related sick codes and PPP reporting
A flexible payroll structure can handle various compensation models, whether your team is commission-based, paid per class, hourly, or salaried
Offices across multiple states ensure that virtual delivery models are supported
Your studio stays connected to our network of trusted advisors who integrate with our payroll systems – from bookkeepers and accountants to financial planners and insurance agents
There is never voicemail during business hours – you are partnered with a dedicated Connected Service Representative who helps solve unexpected issues as they arise
---
Connect with ConnectPay
FBA members receive special pricing on many products and services.
Connect with a ConnectPay representative to learn more about these opportunities!