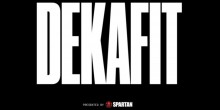 About DEKAFIT by Spartan
DEKAFIT by Spartan

A DEKAthlon for ALL Fitness Levels
Built from an ancient fitness test that will 10X your: Motivation / Community / Performance

DEKAFIT by Spartan is the DEKAthlon of fitness consisting of indoor fitness competitions and motivational training programs designed for ALL levels. DEKAFIT events feature 10 functional fitness zones (aka DEKA Zones) all preceded by a 500 meter run (5k total run distance) in a dynamic environment creating epic experiences and inspirational on-going fitness programming to help you exceed your goals.

DEKAFIT is for everybody and all levels (novice to elite fitness athletes) looking to improve their fitness, build connections and enhance their daily performance. It provides the perfect opportunity for all fitness enthusiasts including, but not limited to: Athletes, Fitness Professionals, Military, Police, Fire, EMS, Runners, OCR Racers, Crossfit, and more!

This is your opportunity to train with purpose, test your fitness, compete against yourself and others because you DESERVE a mark!

Struggling with Motivation? Need Accountability? Looking to Connect with Like-Minds? Ready to Compete?

IT's YOU vs. YOU… WHAT WILL BE YOUR DEKA SCORE?
---
Receive 10% Off DEKAFIT by Spartan Licensing Benefits, Training Programs & Events
To unlock this exclusive offer, login or become an AFS Member.
---
History
Founded in 2010, Spartan Race is the global leader in the sport of obstacle racing. Spartan caters to individuals looking to test their physical limits and change their frame of reference for what they can accomplish, from everyday people looking to get off the couch and lead a fitter lifestyle, to elite endurance athletes who seek the ultimate physical test.
DEKAFIT by Spartan In the Fitness Community
DEKAFIT by Spartan provides global indoor fitness competitions, as well as, engaging training programs and licensing that includes marketing and activation support, business guidance and industry networking opportunities.
The mission of DEKAFIT is to unite like-minded passionate fitness leaders and influencers to create long sustained fitness lifestyles for ALL levels.
---
Save the entire cost of your AFS membership and drive more revenue simply by doing what you do every year!
Attend a conference or event

Discounts to SUCCEED!, Perform Better and more!

Equipment & accessories to fill your space

Discounts from TRX, Power Systems, Perform Better, MYZONE, MERRITHEW and more

Save on CEC/CEU courses & certifications

From NASM, AFAA, NSCA, FAI, NCCPT and more, we save you money on your continuing education.

Better market your business

Complementary Facebook Advertising Credit, Demographic Analysis with Marketing Plan and 60-minute Coaching Call
Find qualified instructors/trainers

Through a turnkey program offered by AFAA/NASM, join thousands getting top talent. 100% free for qualifying facilities

Website and logo design to get noticed

Comprehensive design solutions that will create the online impression you need

Tax preparation and bookkeeping services

AFS has partnered with JETRO and Associates, a cloud based CPA firm for all your back-end business needs

Software & technology to stay organized and grow

Discounts from MINDBODY, EZFacility, OneFitStop, ZipWhip and more
Want to see how AFS can save you thousands of dollars each year? Use our tool to Calculate Your Savings
---