You Deserve a Vacation! 15% Off a Luxury All-Inclusive Teaching Vacation!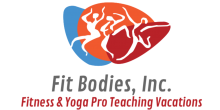 Contact Information:

 Suzelle Snowden, CEO


 800-599-9316


 info@fitbodiesinc.com​
Book a Vacation Now!
FAQs
Special Offer:
Fit Bodies, Inc. is the largest teaching vacation organization in the world! We offer an incredible way for you to get away on a 1-week all-inclusive vacation by teaching a group fitness, yoga, or small group personal training session on your non-travel days.
We are offering FBA members 15% off their 1st vacation booking with Fit Bodies, Inc. Use the code AFS15 at checkout on FitnessProTravel.com.
Many luxury, all-inclusive locations available to share your teaching skills- exotic destinations in Jamaica, Mexico, Dominican Republic, Turks & Caicos, Costa Rica, and more. Companions are for free, too, and you may bring two children up to the age of 12 to the family resorts!
About Fit Bodies, Inc.
Once you travel on your first teaching vacation, you will not want to travel any other way!
The value a Fit Bodies, Inc. vacation brings you is unparalleled, especially when you consider that you get to bring a companion (and/or up to 2 children under 13) to our partner resorts. A typical all-inclusive week-long vacation will cost you $3000-$4200 per couple. Fit Bodies, Inc. charges a fraction of that cost! The best part is as fitness professionals, we get to bring our passion for fitness and wellness to resort guests around the world and be their inspiring fitness pro for a week.
A Fit Bodies, Inc. vacation will bring you a rejuvenating luxury vacation, life-long connections and community, and help you spread your passion for fitness to others.
History
In the 1980's, Suzelle and Larry Snowden were staying at an all-inclusive vacation resort in Jamaica. At the time, Suzelle owned an aerobics studio and taught all of the fitness formats under the sun- step being the big thing then. Suzelle went to go check out the Step class one morning- she was a little in shock when the "instructor" stepped up to teach the class, was a dancer from the entertainment team, and was not qualified or experienced to teach step. One day later, Suzelle went back to try the class again, and to her not-so-surprise, she found the instructor had injured herself (thankfully, she had not injured the guests).
The staff asked Suzelle if she would cover the classes for that week. The response from the guests was really positive, and after the great feedback, the management team asked if she would come back again for a week to teach Step for their resort guests in exchange for a room for the week. News of Suzelle traveling to Jamaica to teach Step traveled to other resorts, who asked her if she had any friends that could do the same thing. And that's when the spark happened, and Fit Bodies, Inc. saw that there was a real need to provide certified and highly qualified fitness and sports professionals to resorts across the world. And Fit Bodies, Inc has been growing and developing ever since then!
We're proud to have built a great community of group fitness, yoga, small group PTs, Tennis and golf pros, and even DJs who are able to travel in luxury to spread their passion and vacation at the same time.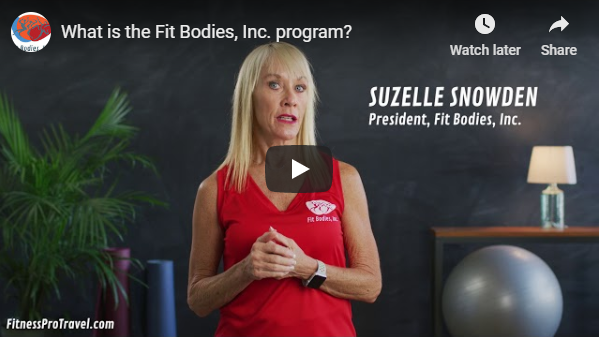 Fit Bodies, Inc. In the Fitness Community
We're very excited to partner and work directly with the FBA community. Just like you, Suzelle Snowden was a fitness studio owner herself, she knows the support that a studio and business owner needs to flourish in the fitness industry. We will strive to deliver that support to you.
The first thing we want you to know is we understand how stressful it can be to be a business owner- the long and tough hours, all the different hats and support you need to provide to your team. Everyone needs a vacation, especially when you're a business owner! We encourage you to think of a teaching vacation as a way that you can take a vacation at a fraction of the cost you would normally pay, AND you can choose to bring a companion or your family with you.
Also, Fit Bodies, Inc. can be shared with your instructor and small group staff as a great way for them to stay motivated and refreshed to teach their classes and training sessions. Once you travel on your first teaching vacation, you will not want to travel any other way!
---
Connect with Fit Bodies, Inc.
FBA members receive special pricing on many products and services.
Connect with a Fit Bodies, Inc. representative to learn more about these opportunities!