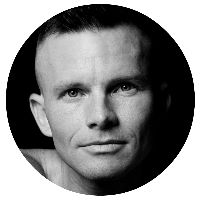 By Ron Betta, Special AFS Contributor
The list of personal trainers in Orlando is immense. How could I stand out from the crowd and create a fitness brand that is unique among a sea of others? When I started my business in 2014, I was determined to set it apart in every way possible way.
I have always had a passion for art and, in fact, my first job was as an assistant production manager at Walt Disney Animation where I contributed to films like Lilo and Stitch and Beauty and the Beast.
In 2014, I decided to combine my love of both art and fitness and opened up Art of Fitness -- an artistic place where people are creating new bodies and can see themselves as works of art.
Because Art of Fitness is not your typical gym, I have been able to get a little creative in my marketing. My website is not your typical website. You may notice that my domain name, Artof.Fitness, is unique, ending in a 'dot-fitness' (.fitness) instead of dot-com.
I have used my 'not-com' domain to create a unique digital footprint for my business in a few ways. First, my not-com domain makes it easier for people to remember my website address (URL). Second, my domain tells a story that builds and reinforces my brand. Finally, I use the uniqueness of the website to attract media attention to expand my brand.
A Memorable Online Presence
Having an easier to remember website helps keep us top of mind. In eliminating the dot-com, I naturally indicate that we are "all in" on our mission. It leaves the client no option but to type in my business name every time they want to visit our site. It may sound odd, but it is easier to fit on printed materials simply because I lose the three, unnecessary letters at the end of the URL. Having a not-com website is unique, I am able to ask people what they notice about my site. It's a place to start a conversation. I use the site in ways like this to solidify my name in their head. When it comes to personal training, I want our clients to feel like work of art. I want them to feel exquisite. Once they know this, artof.fitness is locked in.
To further drive home my brand, my domain name allows me to show clients that I'm unique in my field while making the website memorable. 
Building Our Brand
As I try to drive my website higher on the search engines, having a not-com site sets me apart. Today, we rank on the first page in Google search for "Dr. Phillips personal trainers" and "Orlando personal trainers." In recent months, we have noticed that about a third of our new clients come from Internet searches. Prior to our efforts with the website, we were not ranking and not visible.
But the story I tell clients is what makes this fun and effective. When we talk with people – usually new clients or those walking in off the street -- we point out that they can visit us anytime at www.artof.fitness. We then simply tell them: "even our website's on a diet, it lost the dot-com." If they are interested in hearing more, I simply tell them more about the story that brought me into my own business.
Gaining Media Attention
To expand on the use of the name and the story that we incorporate the website into, the lack of dot-com has been noticed by others. 
INC.com interviewed me about the name and posted my story online last year, and I regularly merchandise that story in my marketing. The credibility that comes from being associated with a major national publication often speaks for itself. A few weeks ago, a reporter was here to do a story on our recent addition of yoga and group exercise. 
As we talked, I explained our website and sure enough, she saw the creativity and the conversation moved to the story of the studio. As I talked about my business history, she nodded along. When I explained that INC.com interviewed me, she perked up. 
The branding of my studio is critical to make me unique in my industry. Having a not-com website, I use it to look different online, add to my story and expand the brand into other areas. 
---
Rob Betta is a Certified Personal Trainer with the American College of Sports Medicine (ACSM) and National Academy of Sports Medicine (NASM). He is certified as a Corrective Exercise Specialist, Fitness Nutrition Specialist and Golf Fitness Specialist with NASM. Ron is the author of Outstanding You: Discover, Design and Achieve Ultimate Fitness and When Personal Training Gets Personal, How to Manage Client Boundaries.  Ron is also managing partner of Art of Fitness in Dr. Philips, FL. Learn more at www.artof.fitness