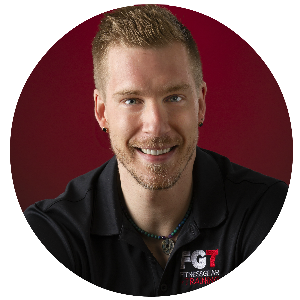 In this featured spot, Zac Palmer, VP of Fitness Gear + Training shares his insight about his company differentiators and how with the help of SportsArt, created a new way for members to identify with something outside of conventional fitness metrics, get them outside of themselves, and see how they can actually be contributing back to the community as a whole. 
AFS: Tell us how Fitness Gear + Training (FGT) came to be.
ZP:  Fitness Gear + Training is a second-generation family business of 31 years. My mom originally started the company as a very small boutique outlet that primarily specialized in supplements and nutritional products with a small selection of fitness equipment. At that time they were more successful with the equipment than the supplements so they purchased and acquired Locker Fitness, a specialty fitness retailer. We then scaled down the supplements and inverted the business model, and that's when Fitness Gear was born.
About 16 years ago I took over the company at 19 years old. A couple of years later I moved and expanded us to incorporate personal training, and we evolved to become Fitness Gear + Training. We started as a private studio environment 1:1, then evolved from there to incorporate a group training program of my own creation 30-minute LIFT, which is designed to address a lot of the concerns that I have with the industry as a whole, as well as address the biggest obstacles that clients have. We run flexible session windows versus traditional scheduled class times so that clients have a lot more flexibility when they can come in, alongside unlimited access - one of our many "excuse eliminators."
AFS: What about yourself?  You've got a unique story to tell.
"My whole belief is when you can take knowledge and intellect and combine it with time earned wisdom and experience that the marriage of the two is really what allows us to create the best experience." - Zac Palmer, Vice President, Fitness Gear + Training 
ZP:  I'm legally disabled. I have multiple herniated discs in my back from a football injury, and subsequently, I had back surgery when I was 21 years old. I went about four years undiagnosed and had days, weeks, months years I couldn't bathe myself, dress myself or anything so that experience provided me with a priceless perspective as to what fitness really means, how we're addressing it, how we're approaching it, and what fitness done well can and should be.
My whole belief is when you can take knowledge and intellect and combine it with time earned wisdom and experience that the marriage of the two is really what allows us to create the best experience. But I took it a bit further and completed doctorate-level medical terminology so that I could communicate on a clinical level with other Healthcare practitioners. 
I really wanted to take my education to the point where we can help people bring their bodies back to center while we build up, implement, enforce and empower a lifestyle as opposed to the short term goals.
AFS: What makes FGT different from the competition - what makes you stand out?
ZP:  We are one of the only facilities in the nation that is both a specialty fitness retailer offering anything from initial design consulting, on to the point of sale, delivery, service, and ongoing preventive maintenance of fitness equipment, both in-home exercise and commercial facilities. Our retail showroom is geared towards the home user and then we design commercial facilities such as apartments, homeowners associations, schools, police and fire departments, city municipalities, hotels and some private and boutique gyms. Coupled with the duality of training services we offer from private personal training for individuals and couples to our very own 30-Minute LIFT program - we always have access to the latest and greatest equipment and are at the forefront of each side of the industry because we see the industry from many different perspectives - from sales to delivery, to service, to actually training on the equipment.
I'm also a certified equipment technician through several different manufacturers. I've been selling the equipment for the last 16 years. This perspective is really valuable because I get to see the equipment from the standpoints of usage, to equipment longevity, all the way to the actual user experience - with an understanding of how quality equipment is designed to move the way you move, and in turn, how that translates to usable functional strength and cardiovascular conditioning.
Our number one commodity today is time. So I find that most people don't have a lot of time and simultaneously need extra accountability. We have private training where clients are accountable to a specific trainer, or with our group program, we monitor absentee clients and make calls when they haven't attended their regular times. We also created session windows instead of traditional class times. As an example, we run a morning window from 5:30-7:30, lunch from 12-1, and the evening from 5-7:30. This allows clients to show up anywhere in those windows up until half an hour before it ends to jump into the program. So they're never five minutes late, there's no reason to skip, and on top of it all, they have unlimited access six days a week!
AFS: What made you choose SportsArt ECO-POWR™ equipment and VERDE™ treadmill when renovating your studio?
ZP:  We were one of the first suppliers to pick up SportsArt in the United States nearly 30 years ago, and they have never ceased to amaze me. I think they do a better job holistically than just about anybody out there in terms of the quality of the product.  Plus, the amount they invest in the ergonomics and biomechanics, shows they're making sure that the equipment is designed to move the way that you move.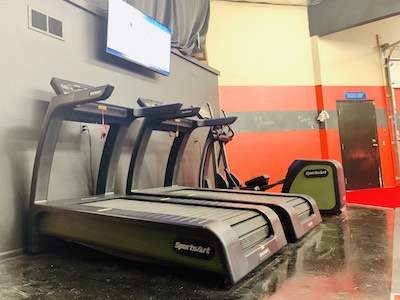 Also, they have the best commercial product warranty in the industry, so they put their money where their mouth is. And in the context of customer service, I typically see parts the next day.
From the moment they introduced the ECO-POWR™ equipment I thought, "I have to do that", I must be the first facility in our county that's a ECO-POWR™ training facility because it's such a unique and beautiful spin on what is otherwise "just fitness." It provides us with new metrics and new areas of focus that enhance engagement and improve the user experience overall, and it was that combination of these things that really made me decide to purchase the SportsArt ECO-POWR™ equipment and the VERDE™ treadmills.
The VERDE™ treadmills are pretty unique because of the functionality where you have, one, a treadmill that's energy-generating instead of energy consuming, but we can also create resistance on the VERDE™ where you have to push like a sled. So the innovative functions allow us to cross-train and leverage it in many different ways than you could with a conventional treadmill. That combination of things between the SportsArt ECO-POWR™ and the VERDE™ is what really drove us to make the transition and change all of our current cardiovascular equipment in our training facilities to the SportsArt ECO-POWR™ line. Somewhat ironically, it fits extremely well with our Vision. Our vision is "Sustainable health and happiness for everyBODY." So it became an unintended, but unique play on words that was very symbiotic and synergistic.
AFS: How did SportsArt help you overcome your biggest business challenge?  
ZP:  From a retail standpoint: the client experience is Paramount. We have to be doing things and serving our clients at a higher level than anyone else. Otherwise, there's nothing that prevents them from going online or purchasing the wrong products for their home or facility. SportsArt has always delivered in every context from the product quality, to the user experience, to service and knowing that if we have challenges they're there to support us.
From a training standpoint: with SportsArt SA Well+™ system, which is their leader board that actually syncs up with their app and the specific equipment our clients are using. Our clients can, in real-time, see all the conventional metrics that many group training facilities or programs offer like monitoring your heart rate, how many calories you're burning, what distance you've traveled, all of which is projected up onto the leader board and tracked live or cumulatively. So it creates an air of competition both with yourself and other members within our family and our community at FGT, but it also gave people an additional metric to look at - how much power they're generating, or more specifically, how many watt-hours they are generating and helping to feedback into the facility to offset our overall energy consumption.
SportsArt has created a new platform and new way for us to help people to identify with something outside of conventional fitness metrics, get them outside of themselves, and see how they can actually be contributing back to the community as a whole. In that context, they feel really good about their exercise, contribution, and the lifestyle they've created. That's been a really exciting thing for us because it's really increased the overall user engagement and also allows us to run a variety of competitions like who the highest energy producers were that month.
AFS: Have you been able to market your studio differently by leveraging the green element that comes with having SportsArt equipment? 
ZP:  It's still so fresh here that we haven't really done much outside of general press releases and things of that nature. As time goes on one of my ultimate intentions is to host an annual green power marathon where we invite the community in over a 12-24 hour window where people can sign up for specific time slots, and we make it a charity fundraiser event. That will become something that we do as an annual event.
We've been letting the community at large know that this is something that we've done and that we are the first commercial ECO-POWR™ training facility in Whatcom County, but we haven't taken it much beyond that yet. Again, that's not to say that we're not going to, we've just been really focusing on familiarizing ourselves with the equipment and the product interface. We will definitely leverage it when we have opportunities in the future.
AFS: What's been the member feedback once they learn about SportsArt's equipment and what it does for the environment?
ZP:  Clients were really excited; a lot of them were so stoked. So many people have just said, "Wow, I thought of this so many times... why is it that my elliptical or bike doesn't generate power". They see the correlation of value in that context, and they feel good about it and are excited to see that we were the ones to make this investment in this product line as it really sets the standard for fitness and wellness, and that's something I will repeatedly put my name behind.
Using SportsArt equipment has created a new level of engagement for our clients. They are now interacting with the equipment at a higher level than they ever were before. It's increased the amount of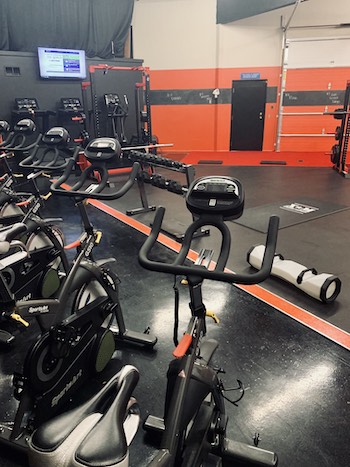 time people are spending on the equipment, they're utilizing it more than ever. It's created a new means for them to stay active and engaged and compete with themselves, and provide a little healthy camaraderie when they choose.
AFS: Do you believe, by having SportsArt's equipment in your facility that you've been able to sell more memberships and gain more clients?
ZP:  I definitely do. People are impressed with the equipment along with the structure of our facilities and programs as a whole. Our purchase came with a major remodel where we brought all the fitness down to the main floor, so it created a much more congruent space, and then the ECO-POWR™ element and leader board is really exciting and intriguing to people in every respect - both the product and its complementary SA WELL+™ leader board/app fitness tracking system.
It is definitely something that people find exciting and appealing and I would say it has improved our ability to gain new members.
AFS: What would you say/recommend to studio owners that may be considering purchasing SportsArt equipment?
ZP: I'd recommend anything within the SportsArt line, wholeheartedly. They make absolutely phenomenal products that will last in your facility and serve your clients and you very well. They're very attractive, they're much easier to work on as they've made substantial improvements this year with not only the aesthetics but the ability for us to remove those aesthetic covers so it's faster and easier for us to get to the internal working components.
From that standpoint, it enhances engagement and creates a new differentiator so the SportsArt ECO-POWR™ line is fantastic. So in every context, even in reference to their strength equipment, I think they make some of the best strength equipment on the market as well.  I'm a huge advocate and proponent of the SportsArt products, equipment and the company as a whole, and I don't think anybody could make a bad decision with SportsArt, period. It is a wise investment.



For any purchase of 10 or more ECO-POWR units AFS members will receive 50% off the SA Well+ Kit and Boards. 
SportsArt is committed to building innovative, world class cardio and strength equipment that helps people find their best self.
Simply plug the bikes and ellipticals into the wall, and the excess energy goes back into the facility's power grid. Club owners who replace all of their ellipticals and cycles with the ECO-POWR™ products will see significant power offsets savings. 
I'd like more info about SportsArt!