Receive a FREE Countertop Display Rack ($45 value)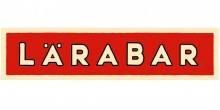 Contact Information:

 Annie Parsons, Specialty Channels Manager


 annie.parsons@larabar.com


 https://www.larabar.com/
Special Offer:
As a fitness professional, you know what your community wants: simple, delicious fuel on the go. Made from just fruits, nuts, and spices, LÄRABAR is the perfect snack before or after a workout – and the LÄRABAR Wholesale program makes it easy for you to order our products at a discount. We sell 'em to you, you sell 'em to them, everyone wins.

Create an account today [https://wholesale.larabar.com/], and use the code AFS2020 at checkout on your first order to receive a free countertop display rack ($45 value).
About LARABAR
At LÄRABAR, we believe a sound mind, body, and spirit is derived from what you eat, and what you eat is most delicious and satisfying when it's in its whole, natural state. That's why we're passionate about creating convenient snacks made from just a few simple, whole-food ingredients.

Our products are a simple blend of just 2-9 real pantry ingredients like whole nuts and fruits. We never use artificial flavors, preservatives, fake stuff, or fillers. Simply put, LÄRABAR is food made from food.
History
It started out as just a hike, no different than countless others Lara Merriken had taken in the beautiful Rocky Mountains of Colorado. Little did she know she was about to come up with a mountain of an idea: combine simple ingredients such as fruits and nuts to create a food product that's tasty, wholesome, and convenient.

That was the beginning of LÄRABAR.

Since 2003, we've been serving up simple snacks that help fuel people to live active, full lives. After all, health is your greatest wealth.
LARABAR In the Fitness Community
As a fitness professional, you serve people who strive to take care of their bodies - but most gyms don't offer nourishing snacks. Set your business apart by joining the LÄRABAR Wholesale program! Our Wholesale program makes it easy to stock your fitness studio with our delicious fruit & nut bars for your members to enjoy pre- or post-workout, preventing hanger and fueling them to achieve their best.
---
Connect with LARABAR
FBA members receive special pricing on many products and services.
Connect with a LARABAR representative to learn more about these opportunities!