Save 35% Off Any Plan and a FREE 14 Day Trial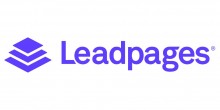 Contact Information:

 Bob Sparkins


 bob.sparkins@leadpages.com


 https://leadpages.com/fba21
Special Offer:
FBA members receive a generous discount on their first year by visiting this page.
Already a customer of Leadpages? You can get the deal, too, from the "upgrade link" on the same page.
Start with a 14-day trial to explore all that Leadpages has to offer, then grow your fitness business faster with Leadpages suite of conversion marketing tools.
About Leadpages
The Smartest Way to Sell Your Fitness Programs Online
In a rush? Here are a few highlights of what sets Leadpages apart...
Knowledgeable, patient customer service team based in Minneapolis, Minnesota
Plays well with others: use Leadpages with virtually any email service provider, with or without Wordpress, with or without separate hosting
Help when you need it: Marketing advice and conversion coaching are included in all plans
Less headaches: easy to update in a snap, even if you've never "done this sort of thing before;" plus, no plugins or themes to leave your site vulnerable to nefarious attacks.
The fantastic price for FBA members: For under $500/year (Pro account), you get multiple websites, unlimited landing pages, alert bars, pop-ups, traffic, and leads—with phenomenal reliability backed by the Google Cloud.
When you think of running a marketing campaign online, do the frustrations of updating your website and landing pages hold you back? Simplify your marketing while boosting your results, by using Leadpages for your landing pages and/or website.
What can you do with Leadpages?
History
Leadpages was born from a simple but rampant problem: how can the average, non-techie business owner take control of their online marketing, while using best practices to generate more business? In 2013, Clay Collins and two additional co-founders bootstrapped one of the first landing page builders in the market, empowering small business owners to set up their own landing pages for building their email list, driving webinar registrations, and elevating their revenue.

Leadpages experienced hyper-growth out of the gate, a few rounds of funding, an acquisition of a solid marketing automation platform (Drip), and the sale of the Leadpages unit to the Canadian software portfolio company, Redbrick (Victoria, British Columbia) in 2020 (two weeks before lockdowns began).

At every chapter of our story, Leadpages is dedicated to serving small businesses, from real estate and financial professionals to coaches and consultants. From agencies and marketing teams to service providers. And of course, one of our largest cohorts of customers are health and fitness professionals.
Leadpages In the Fitness Community
The fitness studio community has faced enormous challenges, before, during and after the pandemic.
It's never been more competitive to gain the attention of people wanting to improve their fitness. Leadpages helps you look great online and feel proud of your website. Updates are fast, and it's easy to go from idea to execution using our simple toolkit.
We experienced months of no-contact with clients. Leadpages helped studio owners pivot to online versions of their programs. Whether it's signing up for an at-home challenge, or registering for Zoom fitness classes, Leadpages has enabled the switch.
People are yearning for human connection again. Leadpages templates inspire a variety of programs for your fitness studio to consider, along with ideas on creating compelling offers that get the sale.
Try our platform, free for 14 days, and experience why fitness professionals like you love having Leadpages on their team.
How to create a time-limited promotion sales page with Leadpages:
---
Connect with Leadpages
FBA members receive special pricing on many products and services.
Connect with a Leadpages representative to learn more about these opportunities!