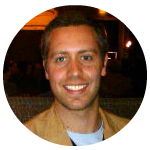 By Josh Leve, AFS Founder & CEO
Recently I was speaking to a family friend about the explosion of fitness studios in the San Francisco area.  He mentioned that he was amazed to see so many popping up all over the place and even recounted his recent experience with one. Here's what happened...
While out grocery shopping he noticed some clever advertising in the window of a local fitness studio. He was interested because he and his wife are involved with Pilates, yoga, and personal training. He thought he'd grab some information, check out the space and determine if the studio was a good fit for what they were looking for. However, it's when he walked in the door everything changed.