Receive 35% off NASM-CPT or AFAA- GFI Certification Programs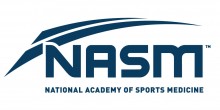 Contact Information:

Derek Weaver, Manager of Health Club Relations


 (602) 707-5375


 1 (800) 460-6276


 derek.weaver@nasm.org


http://nasm.org​
Special Offer:
Did you know that our partners at NASM/AFAA offer preferred rates on their NCCA-accredited certification and specialization programs to all FBA members?
To explore your continuing education options, and enroll in a program, visit them online at nasm.org or call 1 (800) 460-6276 to speak with a Program Advisor for a personalized education plan. Use code FBA35 at checkout to receive 35% off on an NASM-CPT or AFAA-GFI certification program or the specialization program of your choice*.
 *Some exclusions may apply. 
About NASM
Our products and services are scientifically and clinically proven. We first gained attention by pioneering the proprietary Optimum Performance Training (OPT™) model – the first science- based training system in the industry.
NASM is part of Ascend Learning, the leader in providing technology-based education and certification solutions.
History
For 30 years, and counting, the National Academy of Sports Medicine (NASM) has set the standard in certification, continuing education, solutions and tools for health and fitness, sports performance and sports medicine professionals. NASM has pioneered evidence-based health and fitness solutions that optimize physical performance and allow individuals to achieve a variety of fitness activity goals.
Today, NASM serves thousands worldwide and positively impacts the lives of millions of people the world over. As the world's foremost resource for health and fitness information, the organization continues to elevate its industry best practices by providing outstanding programs and quality certification courses for its members.
NASM In the Fitness Community
As the most respected name in fitness certification, NASM brings the credibility and power of trainers founded on evidence-based strategies and techniques. NASM trainers provide consistent results for your member clients.
If your facility currently supports and employs NASM-certified professionals, or is looking to do so, we want to talk to you! The NASM Preferred Club Partnership program is designed to put the power of NASM to work in your club. Attract, develop, and retain quality NASM trainers, who will deliver exceptional outcomes to your clients, and enjoy exclusive partner benefits, such as live workshop incentives, preferred pricing, priority service — and much more. Get Started.
In addition to our job board, we also have the NASM-CPT Development Program where you can recruit new CPTs through an 8-week "gymternship" program. Learn more here.
---