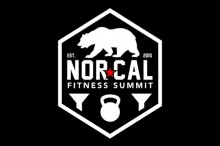 Special Offer:
The Nor-Cal Fitness Summit is currently finalizing plans for their 2018 show.
Check back soon for you AFS member special offer!
About Nor Cal Fitness Summit
Nor Cal Fitness Summit brings fitness professionals, trainers and entrepreneurs together with one single intention: to target the typical headaches and growing pains of running an independent fitness business and solve them the smart way.
No matter how hard we work, there are always hurdles to overcome. 
Whether your income isn't where you would like it to be, or you never seem to have enough time to grow, or find growing your client base challenging, you will find not just answers, but also solutions to your challenges at the Nor-Cal Fitness Summit.
History
Founder of the Nor-Cal Fitness Summit, Khaled Elmasri moved to the U.S. from the Middle East at 5 years old. Not knowing how to speak English, not having many friends growing up, feeling alone and connected to anything or anyone, he started making risky choices so that I could fit in and belong.
Everything he felt at 5 are what many of you, the fitness entrepreneurs/ personal trainers feel now. Nor-Cal Fitness Summit allows him to bring people together and create a community where no one is alone. Where many are going through the same challenges and have a safe environment to share their struggles.
Trainers will connect, learn, and master both fundamental and advanced strategies (lead generation, marketing, sales, and social media) designed specifically for the personal trainer.
Nor Cal Fitness Summit In the Fitness Community
For the Nor-Cal Fitness Summit 2016, we have put together a panel of leading fitness industry experts who will be showing you the secrets of their success over the weekend. Not only is this a chance to pick the brains of world leaders in their field—it's also a huge opportunity to lean how you can apply their experience to your business for revenue-boosting results.
---