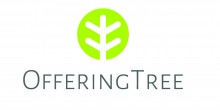 About OfferingTree

OfferingTree provides new fitness professionals and studios the opportunity to build their own online presence, showcase and collect payments for their offerings online, create a strong personal brand, and much more: 
Create a Website 
Manage Your Schedule 
Accept Payments or Donations Online 
Track Your Clients 
Build Out Class, Retreat, or Workshop Series 
Set Up Advanced Email Marketing Features 
Schedule Client Appointments / 1-on-1 Sessions 
Write and Promote a Blog 
Access a Digital Dashboard with Key Business Metrics 
Integrate Your Social Media Channels 
Interact with Clients via a Built-In Contact Form 
Create your site in 10 minutes or less here!
Want us to build your site for you? Fill out this form here, and we'll do the rest!
---
Free Website Creation + 15% off Your Monthly Subscription
To unlock this exclusive offer, login or become an AFS Member.
---
History
OfferingTree identified an underserved group in the fitness and wellness markets - individual personal trainers and other wellness professionals. These professionals are passionate about the services they offer to their clients but are less interested in the administrative and technological challenges of running a business.
As a Public Benefit Corporation, OfferingTree helps fitness and wellness professionals earn a livelihood while simultaneously increasing the public's access to wellness.
OfferingTree In the Fitness Community
OfferingTree simplifies website management, scheduling, and payment processing so that fitness professionals including personal trainers and studios can focus on their clients. OfferingTree is also a Public Benefit Corporation committed to wellness education and access. In fulfilling our mission, we regularly publish educational content via our blog and offer free educational events to provide useful information to the public and to wellness professionals.
---
Connect with OfferingTree
AFS members receive special pricing on many products and services.
Connect with a OfferingTree representative to learn more about these opportunities!
---
Save the entire cost of your AFS membership and drive more revenue simply by doing what you do every year!
Attend a conference or event

Discounts to SUCCEED!, Perform Better and more!

Equipment & accessories to fill your space

Discounts from TRX, Power Systems, Perform Better, MYZONE, MERRITHEW and more

Save on CEC/CEU courses & certifications

From NASM, AFAA, NSCA, FAI, NCCPT and more, we save you money on your continuing education.

Better market your business

Complementary Facebook Advertising Credit, Demographic Analysis with Marketing Plan and 60-minute Coaching Call
Find qualified instructors/trainers

Through a turnkey program offered by AFAA/NASM, join thousands getting top talent. 100% free for qualifying facilities

Website and logo design to get noticed

Comprehensive design solutions that will create the online impression you need

Tax preparation and bookkeeping services

AFS has partnered with JETRO and Associates, a cloud based CPA firm for all your back-end business needs

Software & technology to stay organized and grow

Discounts from MINDBODY, EZFacility, OneFitStop, ZipWhip and more
Want to see how AFS can save you thousands of dollars each year? Use our tool to Calculate Your Savings
---