50% off Summit Registrations and 10% off Online Orders!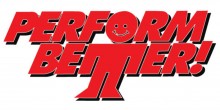 Contact Information:

 Erin McGirr


 800-556-7464 x142


 erin.mcgirr@performbetter.com​


 www.performbetter.com
Special Offer:
FBA members: Use code AFS10 online when checking out and get 10% off of your order!
To receive 50% off Summit registrations call Erin McGirr at 800-556-7464 x142 and tell her you're an FBA member!
About Perform Better
Perform Better has paved the way for Functional Training by supplying innovative products and top-notch education to trainers, coaches and therapists to help promote this training concept. From their quality products to the very best service to their premier education, Perform Better has emerged as the leader in both Functional Training equipment and education for the past 25 years and will continue to do so in the future.
History
Perform Better has spent the last 25 years both supplying and redefining the fitness world. In the beginning it was rare to find a facility that had cutting-edge equipment, like a medicine ball or stability ball; however those tools, as well as many others, quickly became necessities when a new concept dubbed Functional Training surfaced.  
---
Learn more about how Perform Better can go to work for you!
Erin has been with Perform Better for over 10 years and specializes in product selection, facility design and product application. Her Exercise Science & Sports Performance background allows her to relate to customers' needs to help get them exactly what they are looking for.