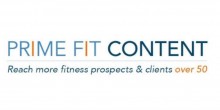 About Prime Fit Content
Prime Fit Content is your link to engaging clients and prospects over 50.

We produce and distribute high-quality, original content that speaks directly to this audience and helps you distinguish your studio from the competition. People in this age group represent a huge growth opportunity for fitness studios, but traditional fitness marketing isn't enough to get them in your door, or to retain them as members. You need focused content for your newsletters, blogs and social media accounts to build relationships that build your business.
---
AFS Members Receive 15% Discount for Prime Fit Content Subscriptions!
To unlock this exclusive offer, login or become an AFS Member.
---
History
I created Prime Fit Content in the summer of 2018 to bring my skills as a journalist and marketer to the fitness industry. I was a newspaper reporter and editor for 20 years, and then spent a decade in corporate communications. Fitness marketing generally doesn't address people my age (I'm 55) and older, and I saw this as an opportunity for me to help fitness professionals help countless people live better, healthier lives.
Prime Fit Content In the Fitness Community
I support the studio community by providing low-cost, high-quality content that saves studio owners time, money and frustration. Most people in fitness might know that the over-50 market is a huge market. They might know they need content to make the most of it. But they probably don't have the time and expertise to really do it. Prime Fit Content can do it for them.
---
Save the entire cost of your AFS membership and drive more revenue simply by doing what you do every year!
Attend a conference or event

Discounts to SUCCEED!, Perform Better and more!

Equipment & accessories to fill your space

Discounts from TRX, Power Systems, Perform Better, MYZONE, MERRITHEW and more

Save on CEC/CEU courses & certifications

From NASM, AFAA, NSCA, FAI, NCCPT and more, we save you money on your continuing education.

Better market your business

Complementary Facebook Advertising Credit, Demographic Analysis with Marketing Plan and 60-minute Coaching Call
Find qualified instructors/trainers

Through a turnkey program offered by AFAA/NASM, join thousands getting top talent. 100% free for qualifying facilities

Website and logo design to get noticed

Comprehensive design solutions that will create the online impression you need

Tax preparation and bookkeeping services

AFS has partnered with JETRO and Associates, a cloud based CPA firm for all your back-end business needs

Software & technology to stay organized and grow

Discounts from MINDBODY, EZFacility, OneFitStop, ZipWhip and more
Want to see how AFS can save you thousands of dollars each year? Use our tool to Calculate Your Savings
---