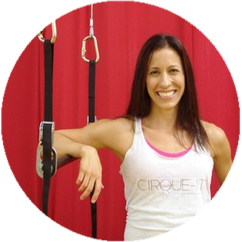 By Elizabeth Skwiot, Special AFS Contributor
When we were kids, we'd exercise for fun. We'd anticipate recess in grade school and groan when the bell rang. We'd call our friends for a bike ride or visit their house for an impromptu game of tag. As a kid, exercise wasn't exercise. It was fun. It was play.
I'm not sure when it happens, or why, but sometime between childhood and adulthood, for most people—not all--, exercise turns into a chore. For most working adults, going to the gym is something they feel like they have to do, not something they get to do.
They might sign up for a 6- or 8-week challenge, hop on the bandwagon of the latest diet fad, but many times it's in an effort of obligation or discipline. The innocent joy we had in movement as a child is often gone, and our clients---and even we as trainers—flail from one workout regimen to the next in an effort to stay motivated. That's a problem. We work for motivation to move—a concept that wasn't even in question in our youth.
Wouldn't it be nice if our clients looked forward to their workouts the same way a first-grader looks forward to recess? If even we, as trainers and studio owners, felt we were facilitating mini celebrations of joy instead of toiling over filling hours and stewing over the next hot fitness trend for our clients to latch onto?
We often associate play with childishness; the truth is, play has a valuable and important function, well into adulthood.  Studies have shown that activities perceived as playful by adult participants correlate to strong intrinsic motivation, which in turn can translate to improved program adherence. For fitness studio owners, program adherence has a direct monetary value: retention.
Beyond scientific studies, my own anecdotal experience is that when it's fun, it's fun, and time, money, and the work put forth are inconsequential. When we ran to first base in a school kickball game, we didn't think about doing a high-intensity interval, how tired we would get, or how many calories we'd burn. We ran to first base because we could. Because it was fun.
Even elite athletes have found that having fun can mean performing well. In her latest title defense, UFC Strawweight Champion Rose Namajunas said as much in her post-fight interview. Earning a decision win after 5 grueling rounds in her second fight against Joanna Jedrzejczyk, Namajunas shared the question her coached asked her before the last round that led her to victory:  "Are you having fun?" It was this reminder to let go that helped Namajunas earn a second victory against the prior champion.
Certainly, having fun doesn't have to mean that all metrics and structure go by the wayside; quite the opposite. Just as kickball isn't fun unless everyone plays by the rules, your studio's sessions can rely on sound programming as a foundation to have fun.
If you haven't already begun incorporating some fun into your studio, you can start with something simple. Superhero Saturday (everyone wears superhero shirts), Sunday Punday (coaching and cueing can incorporate puns), or even Tutu Tuesday such as we have at the Cirque-It Fitness studio are easy options that bring an element of creativity and playfulness to the fitness environment without compromising quality.  You might be surprised at how many clients look forward to these interruptions in their daily routine and how they look forward to the 'fun' sessions just a bit more than the standard ones. After all, bringing clients joy is a retention strategy in itself—one that is free and priceless at the same time.
---
Elizabeth Skwiot is the founder of Cirque-It® Fitness, a circuit-style training modality that incorporates techniques and principles of circus arts with a foundation in science and biomechanics. Classes are taught with 'circus-infused' moves in a small group training format that is fun, challenging, and accessible to a wide variety of fitness levels. Cirque-It Fitness hosts off-site workshops around the country, empowering fitness professionals and studios to bring this specialized training to their clients.  For more information, visit cirqueitfitness.com.