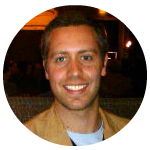 By Josh Leve, AFS Founder & CEO
Talk to any fitness professional in the Bay Area and I can just about guarantee they know Khaled Elmasri. His enthusiastic approach to changing people's lives is evident and his desire to make others around him better is one of the biggest reasons I was excited to work more closely with him and the Nor-Cal Fitness Summit.
When I met Khaled earlier this year I was drawn to his entrepreneurial spirit. From that initial meeting and follow up calls, I've learned more about his future aspirations including where he wants to take the Nor-Cal Fitness Summit.  Further, it was so important to us at AFS that we partnered with his event!
I recently asked Khaled a variety of questions about the event and wanted to share his vision with the AFS audience.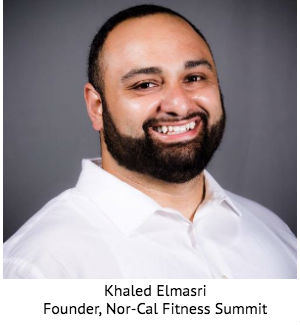 Describe the Nor-Cal Fitness Summit to AFS members. We bring fitness professionals, trainers and entrepreneurs together with one single intention: to target the typical headaches and growing pains of running an independent fitness business and solve them the smart way.  No matter how hard we work, there are always hurdles to overcome. Whether your income isn't where you would like it to be, or you never seem to have enough time to grow, or find growing your client base challenging, you will find not just answers, but also solutions to your challenges at the Nor-Cal Fitness Summit 2016. 
What will an attendee learn at the event? In just one weekend, you will learn 5x as much as you would from studying alone for an entire year—that's a promise! With over 200 professionals meeting and mingling in the South San Francisco Conference Center from the 7th-9th 2016, this event isn't just about growing: it's also about empowering yourself through education, meeting inspirational people and networking. There is no other summit like it in the world.​
How will this event change my business? For the Nor-Cal Fitness Summit 2016, we have put together a panel of 20 leading fitness industry experts who will be showing you the secrets of their success over the weekend. Not only is this a chance to pick the brains of world leaders in their field—it's also a huge opportunity to lean how you can apply their experience to your business for revenue-boosting results.
What topics are being presenting at the event? Topics will cover everything from learning how to Expand Your Business, Worldwide Online Growth Opportunities, Specialized Niche Panels, Motivating Your Clients & Yourself, and Long-Term Wealth Creation. 
---
Josh Leve is responsible for the strategic development and growth of the Association of Fitness Studios. Josh brings more than 10 years of sales, consulting, advertising, marketing, operations, and retail experience to AFS and has spent more than a decade in the fitness industry.