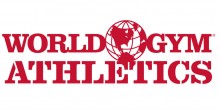 About World Gym Athletics
WORLD GYM ATHLETICS TRAIN HARD. MOVE FAST. GET STRONG.
World Gym Athletics is the most complete, balanced, inspirational and fun training program available anywhere. World Gym Athletics helps you get the most out of your training with progressive individual and small group fitness programs. These combine elements of tactical training, functional training, and high-intensity interval training. The raw, no-nonsense and balanced approach to fitness offers a more complete training program to help you achieve your fitness goals. This is #FitnessTruth.
---
AFS Members Receive 3 Weeks FREE Programming with the World Gym Athletics Program!
To unlock this exclusive offer, login or become an AFS Member.
---
History
The iconic World Gym brand was founded in 1976 by Joe Gold during the glory days of "Muscle Beach" in Venice, CA. Joe was one of the original ringleaders of Muscle Beach. In his prime, he toured with Mae West, and was at the heart of the cozy connection that has always existed between the Muscle Beach fitness scene and the celebrity of Hollywood. Joe blazed a trail followed later by the likes of Arnold Schwarzenegger, Lou Ferrigno, and Dave Draper to name just a few – all of whom had significant Hollywood careers and an intimate connection to and love for World Gym.
From its roots at Muscle Beach, World Gym has evolved into an internationally recognized brand that has captured the imagination of people around the globe. Given its storied past, it is no surprise that World Gym is one of the most celebrated fitness brands in the world today. World Gym, with its global headquarters in sunny southern California, currently has over 215 locations worldwide, located in the USA, Canada, Central & South America, Europe, Africa, Asia, and Australia.
World Gym Athletics In the Fitness Community
World Gym Athletics is our exclusive, studio-style, small group training program that combines the best of HIIT, Olympic lifting and functional training. Built to be a complete system for personal and group training, members get the most out of their workouts with safe, intense, and balanced sessions. No shortcuts. No gimmicks. It's fitness truth.
World Gym Athletics is a flexible program that can be adapted to most spaces in a variety of formats and configurations depending on the existing space and demographics. World Gym Athletics creates an opportunity for gym owners to create a new top-tier membership. Every World Gym that has introduced World Gym Athletics has seen an increase in its average membership rate, membership retention, personal training revenue and Pro Shop revenue. World Gym Athletics reduces membership churn by creating a loyal membership base.
---
Connect with World Gym Athletics
AFS members receive special pricing on many products and services.
Connect with a World Gym Athletics representative to learn more about these opportunities!
---
Save the entire cost of your AFS membership and drive more revenue simply by doing what you do every year!
Attend a conference or event

Discounts to SUCCEED!, Perform Better and more!

Equipment & accessories to fill your space

Discounts from TRX, Power Systems, Perform Better, MYZONE, MERRITHEW and more

Save on CEC/CEU courses & certifications

From NASM, AFAA, NSCA, FAI, NCCPT and more, we save you money on your continuing education.

Better market your business

Complementary Facebook Advertising Credit, Demographic Analysis with Marketing Plan and 60-minute Coaching Call
Find qualified instructors/trainers

Through a turnkey program offered by AFAA/NASM, join thousands getting top talent. 100% free for qualifying facilities

Website and logo design to get noticed

Comprehensive design solutions that will create the online impression you need

Tax preparation and bookkeeping services

AFS has partnered with JETRO and Associates, a cloud based CPA firm for all your back-end business needs

Software & technology to stay organized and grow

Discounts from MINDBODY, EZFacility, OneFitStop, ZipWhip and more
Want to see how AFS can save you thousands of dollars each year? Use our tool to Calculate Your Savings
---