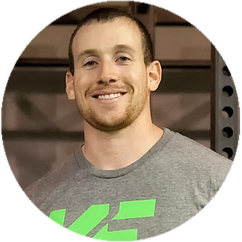 By Dan Kleckner, Special AFS Contributor
If you are a gym owner or a personal trainer, you know that every year around the holidays business starts to slow down as clients get busy and are out of their normal routine. November and December are also traditionally the hardest months to get new clients in the door.
While you can't expect to generate as many new leads during these months as the busier months of the year (e.g. January and September) you can still generate some growth during those months.
Here are 4 ideas to implement during the holiday months to continue to grow your business...
Have a Member Appreciation Month
While you should host a member appreciation month at least one other non-slow month during the year, it can be a great way to produce new referrals. We typically do our member appreciation months in October and April. During these special months, we provide clients with unlimited buddy passes – meaning they can bring in as many friends as they want to their workouts for free. We've had a pretty high conversion rate on turning those buddy pass participants into full-time members. Other fun things you can implement during the member appreciation month include themed workouts, giveaways, free swag, etc.
Mail holiday cards to your members with two 30-day memberships enclosed
Every year we send a team photo holiday card to our members. Enclosed is a letter from the owner that recaps all the gym's news and events from the last year as well as two 30-Day membership certificates. Members are encouraged to gift these to a friend or loved one for Christmas. These certificates should look professional and be high quality.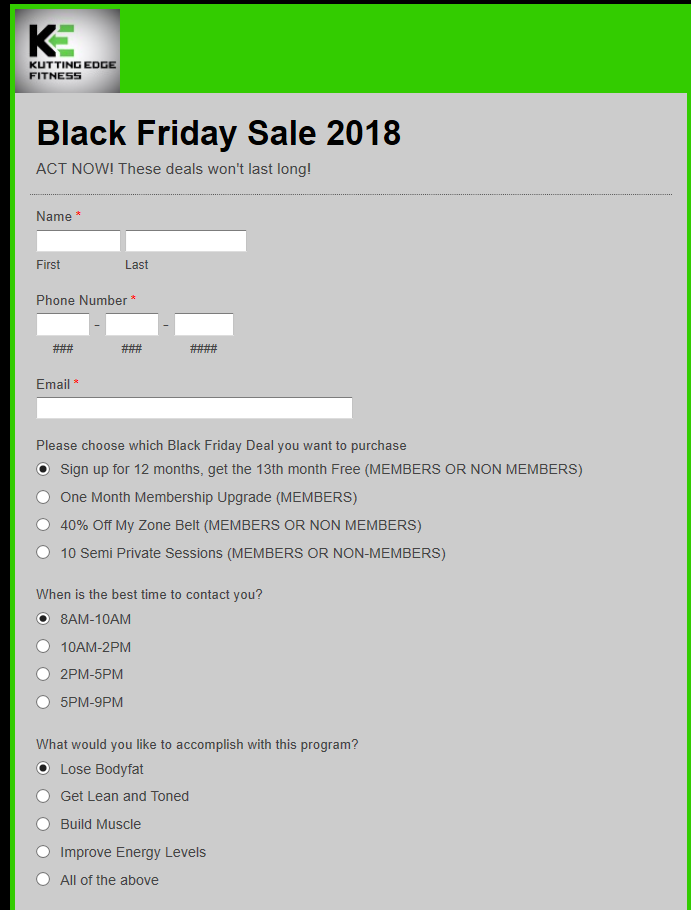 Run a Black Friday Ad
Black Friday is the biggest shopping day of the year, so why not capitalize on that for your fitness studio? We always run Black Friday advertisements on Facebook and Instagram. We typically have 3-5 deals within the ad that people can choose from and purchase online. We've had a lot of success with these ads.
Launch a Holiday Challenge or Transformation Contest
On average people gain about 10 pounds during the holidays. Use this statistic in your marketing and launch a 30-day Holiday Challenge or Transformation Program. You can also turn it into a referral opportunity by making the challenge for teams of two consisting of one member and one non-member. You can have a lot of fun with these by giving away cool prizes, have an end of contest party, etc. Example landing page for Holiday Challenge
I hope these ideas help bring some joy to your business this holiday season! As always, if you have any questions, reach out to me at dan@kuttingedgefitness.com.

More from this Author:
The Art of Converting Leads into Sales
7 Proven Ways to Generate Leads Through Social Media for Your Fitness Business
---
Dan is the owner of Kutting Edge Fitness in Kirkland, Washington and Kinetic Fitness in Butte, Montana – two start-up training gyms. He has worked in the health and fitness field for 15 years and holds a B.S. in Applied Health Science from Montana Tech University, where he was also a collegiate athlete.
Dan is a Certified Exercise Physiologist through the American College of Sports Medicine and a level 2 Titleist Performance Institute Golf Fitness Professional. He has been mentored by some of the top golf fitness and fitness business professionals in the country including Thomas Plummer, Rick Mayo, Frank Nash and Jason Glass. He now mentors several start-up gym owners himself.  Dan is a well-respected speaker in the greater Northwest and is considered an expert on the business of start-up gyms, improving strength/power for golf and other rotational sports, and small group training.